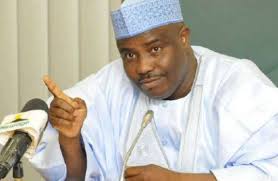 Governor of Sokoto state, Aminu Tambuwal, has insisted that his 252 special advisers and assistants in his employ resigned to pre-empt their planned sack.
Tambuwal's director of media and publicity, Abubakar Shekara, said the governor had already directed their sack.
"So their purported resignation was meant to per-empt the directive of the Governor," he revealed.
In a statement signed by the Director General, Tambuwal had directed the termination of the appointment of all Special Assistants from the service of the state.
According to the statement, this was to enable the appointees engage in partisan activities without ethical or moral dilemmas.
The Advisers in a press conference said they have voluntarily resigned their position on ground of the recent defection of the governor to the Peoples Democratic Party (PDP) and his "abysmal performance" in the state.
They also announced they would remain in the All Progressives Congress (APC).