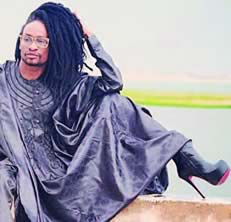 Denrele Edun made a name in showbiz industry primarily due to his weird personality. Of course, he broke the internet when he came with the gist that he was getting married last year.
Even as many people wondered who the young man was getting married to, not just a few believed that the news was just one of Denrele's  publicity stunts.
But in a recent chat with Saturday Beats, the entertainer said his wedding plans was not a hoax.
He said, "I will still get married, honestly, I was supposed to get married last year and I did not plan to publicise the whole affair. I intended to tell people few days to the day of the wedding so that they would come and find out who I was getting married to. But somehow, the news leaked and there was too much media hype around it.
"At a point, it began to look as if I fabricated the story to be in the news but it was the real deal for me. I am trying to pursue the matter but I am not going to say when it would happen. When it is time, people would get the invite but I would not blab. I am going to get married in Nigeria because I have realised over time that I am loved by all. I would not do a strictly VIP crowd because I would invite everybody who is interested in coming, they should come and watch me get married."
Although he did not mention his fiancée's name, the weird one said his woman is not in the entertainment industry.
"My fiancée is not in the entertainment industry. She used to be in the industry but quit because she could not come to terms with the industry so she decided to do a regular 9-5 job. Relationship is all about communication, if anyone tries to change who I am, I would send the person back to her family house and collect my bride price back. It cannot happen because at the end of the day, we would be hungry at home and start looking at ourselves. Marriage would not change me. I know that there is that factor of staying true to one person which I am working on. I am getting there," he said.
Copyright PUNCH.
All rights reserved. This material, and other digital content on this website, may not be reproduced, published, broadcast, rewritten or redistributed in whole or in part without prior express written permission from PUNCH.
Contact: editor@punchng.com
The post My wedding plans was not a hoax –Denrele appeared first on Punch Newspapers.