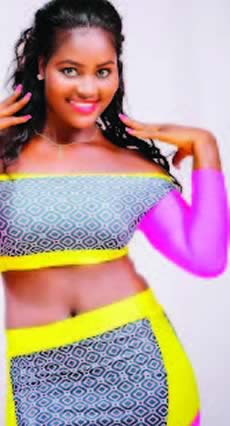 Actress Chizzy Alichi probably didn't know she would send tongues wagging when she put up a picture of her and Flavour as her Display Picture on Blackberry Messenger.
The picture, taken from a scene of a video of one of Flavour's songs where he featured the up and coming actress, immediately went viral with not just a few suggesting that Chizzy would soon be another of Flavour's baby mamas.
The singer already has two children from two former beauty queens; one of them had featured in one of his videos and shortly after, got pregnant and had a baby for him.
But in a recent chat with Saturday Beats, the actress said there is nothing sexual in the relationship she has with Flavour.
 "We are not in a relationship;  in fact, the video shoot was strictly professional. I don't even have his phone number to start with. The closest I got to Flavour was when we were on set of the video. There is no romantic relationship between us. I was also shooting a movie in Asaba, so immediately I was done with the video shoot, I left to continue my work. We did not even have time to hang out. There is nothing between us. I am not gunning to become his baby mama and there is nothing like that between us. There is no intimacy between us, the job was strictly professional," she said.
Chizzy further revealed that prior to being a part of the video shoot, she had never had an encounter with the musician.  She said she was contacted by Flavour's management to be a part of the video and she accepted the challenge because it was a new turf for her.
She said, "I was contacted by his manager to be a part of the video. I learnt that they sent some pictures to Flavour but he had the specification of the woman he wanted as the 'queen' in his video. He said he wanted an African beauty that is tall, curvy and dark in complexion. His manager sent Flavour my picture and he approved of it. Shortly after, I was contacted and I accepted their offer. I was excited when they called me because I had not done something like that before and it is a plus for me."
Copyright PUNCH.
All rights reserved. This material, and other digital content on this website, may not be reproduced, published, broadcast, rewritten or redistributed in whole or in part without prior express written permission from PUNCH.
Contact: editor@punchng.com
The post My relationship with Flavour is platonic –Chizzy Alichi appeared first on Punch Newspapers.