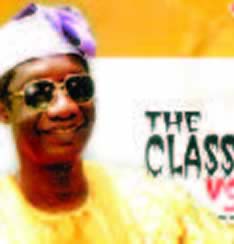 Veteran juju musician, Dele Ojo, is not really tired doing what he loves best- music! The elderly musician has spent 55 years as a singer and Evergreen Musical Company wants to celebrate this feat with the musician.
The 76-year-old musician was in Lagos recently and he said he was ready to give his fans a good time at the event holding in Lagos later in May.
Tagged, "Dele Ojo, 55 Years of Juju Highlife Maestro on Stage," Saturday Beats gathered the show will also have other Nigerian musicians including, Chief Ebenezer Obey, Brymo, Simi and Topsticks performing.
Chief Femi Esho, Chairman of Evergreen Musical Company, said the project was conceptualised to revive, rejuvenate, sustain and promote sounds that are produced and created by Africans for the African continent and the world at large.
"Dele Ojo is one of Nigeria's unsung music legends. We are here today to tell the world that he is still very alive and waxing strong with his music. There are other artistes who have been pushed to the doldrums but we plan to bring them back to the limelight.
 "The project provides platform that blends the new generation sounds with the older generations, while reawakening the yearnings for music that focuses on African values and heritage," Esho said.
Copyright PUNCH.
All rights reserved. This material, and other digital content on this website, may not be reproduced, published, broadcast, rewritten or redistributed in whole or in part without prior express written permission from PUNCH.
Contact: editor@punchng.com
The post Dele Ojo marks 55 years on stage appeared first on Punch Newspapers.