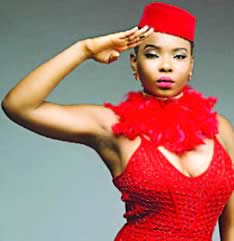 Johnny crooner, Yemi Alade, has added another feather to her cap as she has been unveiled as the brand ambassador, 2016 Africa Fashion Week Nigeria and Africa Fashion Week London respectively.
She was officially unveiled recently at a ceremony held in Lagos.
Yemi Alade said, "With over six years as the biggest African-inspired fashion event in Europe and one of the most anticipated fashion shows in Nigeria, AFWN and AFWL have become world-class brands."
Alade, who is also a jewellery designer, also hinted of her plans to work on a fashion project with some of the emerging designers which would be launched later in the year.
On her part, the AFWN and AFWL founder, Miss Ronke Ademiluyi said, "This year, we chose someone who embodies the true African woman. A strong, intellectual and musically inclined woman; her music reflects what's good, what's great and what's best about the motherland. We couldn't have chosen anyone more suitable to be our brand ambassador."
Copyright PUNCH.
All rights reserved. This material, and other digital content on this website, may not be reproduced, published, broadcast, rewritten or redistributed in whole or in part without prior express written permission from PUNCH.
Contact: editor@punchng.com
The post Yemi Alade adds another feather appeared first on Punch Newspapers.