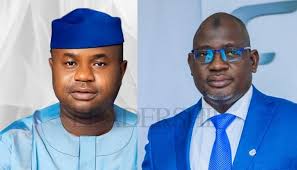 The newly appointed Acting Executive Chairman of the Federal Inland Revenue Service  ( FIRS), Mr. Zaccheaus Adedeji has bemoaned the situation where Nigeria spend 96 percent of its revenue on debt servicing. 
Adedeji who was speaking during the handing over ceremony at the FIRS headquarters in Abuja on Monday said he will take urgent steps to reverse what he called an unhealthy situation.
According to him, "We cannot afford to delay; we must act decisively to reverse this concerning trend. Our aspiration is audacious – to surpass Africa's average tax-to-GDP ratio of 16.5 percent and achieve an impressive 18 percent within three years. By doing so, we aim to reduce our nation's reliance on borrowing and ensure financial sustainability.
He said his goal is to nurture voluntary tax compliance by creating an environment where taxpayers willingly willingly perform their civic duty. "Our overarching goal is to nurture voluntary tax compliance by establishing a modern, dependable tax system that gamers the trust and admiration of all stakeholders," he said. "Through this, we hope to Create an environment where taxpayers willingly fulfil their civic duties.
"A fundamental aspect of our mission is to elucidate to taxpayers why their civic duty matters. We are committed to simplifying our tax system, making it accessible and comprehensible, thereby facilitating voluntary tax payments and fostering a sense of civic responsibility."
He however warned that those who deviate from their tax obligations will not be spared. According to him, "we will enforce our responsibilities judiciously. We will implement a robust enforcement model that effectively deters tax evaders while maintaining fairness and transparency in our processes."
He thanked his predecessor,  Mohammed Nami, whom he said has tenure elevated the standards, and whose commitment to excellence has set a remarkable precedent.
The new chairman also promised that under his watch FIRS will place innovation, technology, and fresh ideas at the forefront of its operations. "This strategic focus will empower us to enhance efficiency, fortify against revenue leaks, and bolster coordination and accountability within our organization," he said.
"Quality data will be the cornerstone of our operations, enabling us to measure our progress, make informed decisions, and maintain the highest standards of accountability. We recognise that data-driven strategies are essential to our success.
"I pledge to maintain an open-door policy, actively engaging with stakeholders to collaboratively construct a tax administration that we can all take pride in. Together, we will build an institution that serves as a beacon of excellence.
"We are determined to align ourselves with President Bola Tinubu's esteemed Fiscal Policy and Tax Reforms Committee. This collaboration will enable us to shape a prosperous fiscal landscape that empowers our nation's growth and development.
"The principles of integrity, confidentiality, professionalism, and fairness are non-negotiable in our service to the nation. Upholding these values will guide our actions and interactions as we work tirelessly to fulfil our mission."
He said he has an unwavering commitment to the welfare of staff. "Your dedication will not go unnoticed, and we pledge to recognise and reward your hard work and dedication. Together, as one united team, we will work tirelessly to secure the prosperity of our nation and the well-being of its citizens.
Earlier in his remarks the outgoing chairman of FIRS, Mr. Muhammad Nami while thanking God for seeing him through his tenure, said the environment he met on ground in 2019 when he assumed office was characterised by weak administrative structure, inefficient processes (mostly manual), adversarial labour relations, insufficient funding with serious funding gaps, mutual mistrust between staff and management, etc. 
"The net effect was low staff morale, the Service struggling to fulfilling its mandate, suboptimal performance, inadequate revenue to prosecute government programmes and low tax-to-GDP ratio," he said.
He said to address these challenges his administration embarked on broad reforms focusing on Administrative and Operational Restructuring, automation of tax administration processes, Creating a customer-focused organisation, and Making the Service data-centric.
"The implementation of these measures greatly improved the output of the Service and specifically resulted into the significantly reduced turn-around time for tax operations, the Service secured ISO certification for some of its processes, improved voluntary tax compliance, successfully altered the tax revenue mix in favour of non-oil taxes, the FIRS set new collection records in 2021 and 2022, the service is currently contributing over 70 percent of the revenue being shared monthly by FAAC."
He noted that the Service is on track to set yet another record in 2023 as it collected over N8.5 trillion (cash) from 1st January to 14th September and have assessed, reconciled and recovered over N4 trillion outstanding tax liabilities and sequestered funds from NNPC on behalf of the Federation. 
"This total sum of over N12 trillion is exclusive of amounts invested by our taxpayers under the Road Infrastructure Tax Credit Scheme and tax implications of waivers by Government from January, 2023 to date," Nami said.
"During the inauguration of the erstwhile Board Members of the Service, I promised to raise the country's Tax-To-GDP ratio from 6% to 10 percent  in four years. We already have achieved a Tax-to-GDP ratio of 10.86 percent  within two years (i.e. as at 31st December 2021.) 
"It may interest us to know that our projected total 2023 tax collection is a minimum of N15 trillion and a projected tax to GDP of nearly 14 percent by December 2023. Certainly, the projections by the current government of tax to GDP of 18 percent in another four years is not only realisable but can be surpassed."
He thanked the staff of FIRS for their support which he said was instrumental for whatever achievements recorded.