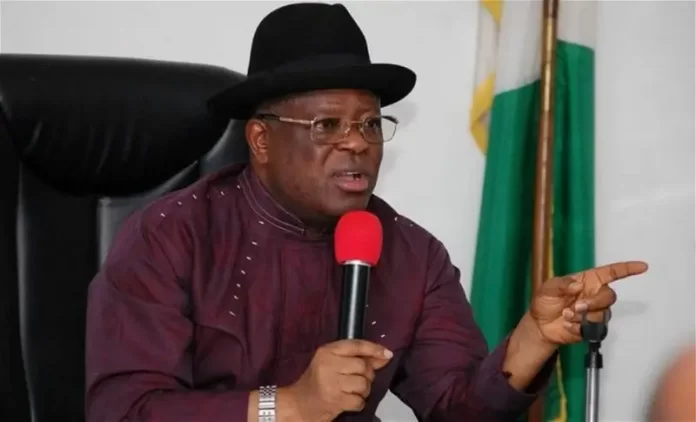 The Federal Government said the present administration inherited about N14 trillion debt on 2,604 roads of 18,000 kilometres from the Muhammadu Buhari administration.
Minister of Works, Senator Dave Umahi, disclosed this while briefing State House correspondents after his maiden briefing session with President Bola Tinubu at the Presidential Villa, Abuja.
The minister also revealed that President Tinubu and the Chairman and CEO of BUA Cement met and reached an agreement to crash cement price in the country.
Senator Umahi further disclosed that he sought the approval of the President to terminate some of the projects that had stayed up to 10 years without any defined source of funding.
He said the government would redesign yet-to-be-completed road projects to concrete pavements, adding that using cement for roads was more reliable and cost-effective than the widely-used bitumen, insisting that it could last for 50 years.
According to him, "the ministry inherited a total of 2,604 projects, worth N14 trillion and for 18,000 kilometers of road, that's what we had.
The minister explained that since assuming office on August 21, his ministry had paid N4 trillion of the N14 trillion owed contractors constructing various road projects nationwide.
He said: "Between when we came on board and now, about N4tn has been paid. And so that is a balance of N10tn remaining."
Senator Umahi, who is the immediate past governor of Ebonyi State, said road projects that had lingered for about two decades were never appropriated and, therefore, would have to be terminated at his behest.
He said although the ministry had identified funding sources to offset N4 trillion of its outstanding debts to contractors, it still had a funding gap of N6 trillion.
He said: "Now, in this N10 trillion, we have defined sources that could fund up to N4 trillion. So, we have a funding gap of about N6 trillion. That is what is there now.
"We have a number of programs for road development under the previous administration. We inherited all the projects; we have not dropped any of them. But curious to know that some of these projects have lasted for 20 years, some 10 years. In fact, in most cases, they were never appropriated throughout every tenure.
"So I went to seek Mr. President's nod so that I will be able to terminate some of the projects that have stayed up to 10 years without any defined source of funding. "
The minister lamented the current appropriation system for federal road projects, saying the piecemeal disbursement of funds to contractors was stymying delivery.
"I shared with Mr president that the way appropriation is being done is not healthy to develop our roads infrastructure. For example, for a road that may cost N10 billion, an appropriation of N150m is made.
"It is just for the contractor to take and put in his pockets because where an average cost of projects that we inherited is about N700 million per kilometer and you are given out N150 million for the whole year, then you are just enhancing the pockets of the contractor."
Umahi said said in his discussion with the President, he had urged him (Tinubu) to engage with the National Assembly to prioritize projects.
"Just look at over 2600 projects, 18,000 kilometers of roads, and N14 trillion. That is huge! And the worrisome part of this is that even the ones that are being funded properly, the roads hardly last up to five years," Umahi complained.
He said the short lifespan of roads necessitated his recent proposal to the President to redesign and construct yet-to-be-completed federal roads using reinforced concrete.