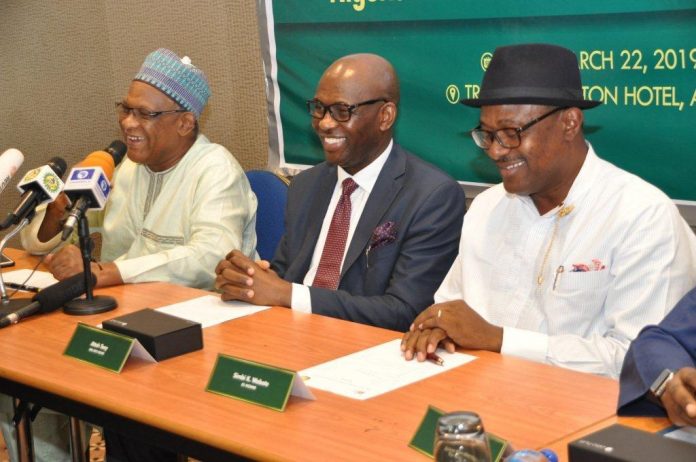 The Nigerian National Petroleum Corporation (NNPC) has pledged support for gas development projects in the country.
Group managing director of NNPC, Maikanti Baru who reiterated this commitment at the signing ceremony of the Nigeria Liquefied Natural Gas Limited (NLNG), Train 7, Nigerian Content Plan, in Abuja, said the corporation will support any project that would encourage production and utilization of natural gas for the benefit of the nation.
Baru, who was represented at the occasion by Saidu Mohammed, chief operating officer (COO), Gas and Power, said the signing ceremony was important as one of the major processes to bring the Train 7 project on board.
He noted that the project had a lot of potentials that would benefit the nation, but called on the Nigerian Content Development and Monitoring Board (NCDMB), to ensure that Train 8 and any other LNG projects in the future should be designed to accommodate more local content in the fabrication of facilities.
Commenting on the corporation's interest in the signing agreement, he said that the Train 7 project was in line with NNPC's vision of prioritising the use of natural gas to the greater benefit of Nigerians.
"Apart from being 49 per cent shareholder in NLNG, we are more interested because it will enhance the development of gas in the country," Baru said. "Bringing the gas to this Train 7 would involve a robust gathering system that will connect trunk lines from offshore to the hinterland, looking beyond NLNG to domestic market, which will open up a flexible system that allows us to swing gas either way, depending on need. This implies that if NLNG is not running, the gas meant for it can be sent to the local market, and when the local market has difficulty in getting the gas consumed, same can be sent back to NLNG.
Baru stated that NNPC's 49 per cent share in the NLNG meant more dividend to the corporation, even as he advised NCDB to make room for more Nigerian Content in subsequent LNG projects.
The group managing director, GMD, called on other partners in the project to obey the rules of engagement.
"My fellow shareholders, please let us continue to provide the necessary support that NLNG as a company requires and always remain compliant with what we are signing today".
Earlier, in his address, Tony Attah, NLNG managing director,   expressed gratitude to the management of the NNPC for its roles in seeing the project to this critical stage.
Similarly, Simi Wabote, NCDMB executive secretary, said that NNPC's presence at the signing ceremony was an indication of the corporation's commitment to ensuring that the Train 7 project gets to Final Investment Destination, FID, this year as projected.