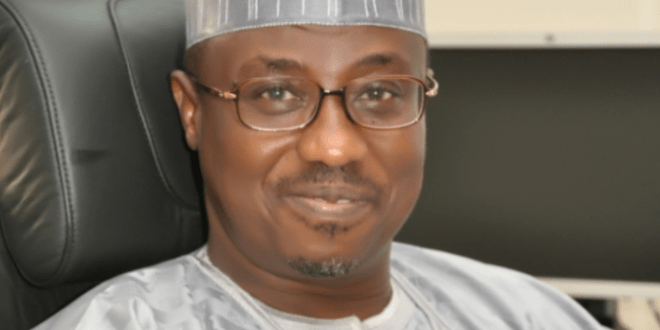 The government partner of the Shell Nigeria Exploration and Production Company, SNEPCo, has showered encomiums on the firm for its pioneering role in the deep-water sector of the Nigerian oil and gas industry.
Maikanti Baru, group managing director of NNPC,  described SNEPCo as a clear leader in deep water whose performance is exemplary.
"SNEPCo is a trail blazer. They set the pace with the Bonga FPSO, being the first deep water exploration business in Nigeria," Baru said at the presentation to him of 'In pursuit of Excellence' a publication of SNEPCo detailing the company's entry into the offshore exploration in the Gulf of Guinea and how the venture has brought so much benefit to Nigeria and Nigerians in local capacity development and the growth of support industry, among others.
Managing director of SNEPCo, Bayo Ojulari, who presented the 90-page book to the NNPC leadership in Abuja, said the company was mindful of its pioneering role in deep-water exploration in Nigeria and would want others to learn from Shell group technical expertise to make Nigeria a leading oil and gas producing country.
"We have documented lots of our efforts which opened up Nigeria's deep water and have contributed largely to the country's oil revenue," said Ojulari who restated SNEPCo's continued commitment to positive impact on Nigeria's economy and the socio-economic welfare of the people through sustained social investments in education, health and sports.
The company, with over 95 percent Nigerian staff, helped create the first generation of Nigerian deep-water oil and gas engineers and recently celebrated the 800-million-barrel mark in 13 years of operations.
In recognition of its pioneering initiatives in Nigeria, SNEPCo was in early 2018 honoured as the best Nigerian oil and gas company in technology and innovation at the maiden edition of the Nigerian International Petroleum Summit (NIPS), held in Abuja, for pioneering in-country Subsea Tree Refurbishment, a remarkable feat in local capacity potential which resulted in significant savings. This was the first time in the Nigerian oil and gas industry that a Subsea Tree was fully stripped down and refurbished locally with all its original functionality restored.
The FPSO vessel's capacity was upgraded in recent years, allowing SNEPCo to expand the field with further drilling of wells in Bonga Phases 2 and 3 and through a subsea tie-back that unlocked the nearby Bonga North West field.
SNEPCo operates OML 118 under a production sharing contract with NNPC. The co-venture partners in OML 118 are Total E & P Nigerian Limited, Nigerian Agip Exploration Limited and Esso Exploration and Production Nigeria (Deepwater) Limited.