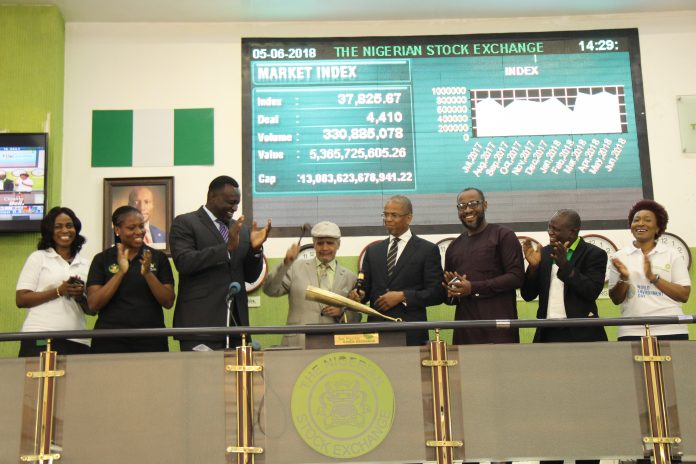 The Nigerian Stock Exchange (NSE), on Tuesday joined the the global community to celebrate the 2018 World Environment Day with a call for a sustained battle to rid the Nigerian environment of plastic pollution.
The Exchange which joined hands with RecyclePoints and the Cleaner Lagos Initiative of the Lagos State Government to organize a clean-up programme on Tuesday, said the clean-up programme was designed to clear its immediate environment of plastic waste and create awareness on the menace of plastic pollution in line with the theme for this year's celebration which is, "Beat Plastic Pollution."
NSE employees volunteers were joined by Mr. Desmond Majekodunmi, Chairman of Lagos State Urban Forest and Animal Shelter Initiative (LUFASI); Chief. Ede Dafinone, Chairman, Nigerian Conservation Foundation (NCF); National Executive Council; Mrs. Bilikiss Adebiyi Abiola; General Manager, Lagos State Parks and Gardens Agency (LASPARK) and Mazi Ukonu, CEO, RecyclePoints in the clean-up exercise along the business district of Lagos.
The Exchange also used its Closing Gong ceremony to further draw attention to fight to reduce plastic pollution and urge governments, industry, communities and individuals to come together and explore sustainable alternatives and urgently reduce the production and excessive use of single-use plastic polluting oceans, damaging marine life and threatening human health.
Commenting on the clean-up programme, Head, Shared Services Division, NSE, Bola Adeeko, said, "With sustainability being an important part of NSE's corporate culture, we are committed to minimizing our environmental footprint, developing new initiatives and seeking partnership to further our progress toward a more sustainable Exchange.
"Ending plastic pollution is a challenge we take very seriously at The Nigerian Stock Exchange. We recently signed a Memorandum of Understanding (MoU) with RecyclePoints Limited for the collection and recycling of waste materials generated at The Exchange's offices. We are therefore excited to engage our employees and give them the opportunity to beat plastic pollution and contribute to achieving the company's sustainability goals."
World Environment Day is the United Nations' most important day for encouraging worldwide awareness and action for protection of our environment. Since it began in 1974, it has grown to become a global platform for public outreach that is widely celebrated by stakeholders in more than 100 countries. It also serves as the "people's day" for doing something positive for the environment, galvanizing individual actions into a collective power that generates an exponential positive impact on the planet.