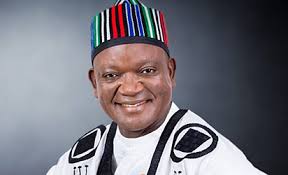 Governor Samuel Ortom on Tuesday swore in 15 Commissioners to help stir the affairs of his administration especially as members of the State Executive Council, EXCO.
He stated that the appointments were made without interference from any quarters, stressing that those appointed should know that their godfather is God and then the Benue people.
The Governor noted that the new appointees were coming into governance when challenges are enormous and should deploy their experiences to bear on the collective determination of his administration to respond to the challenges confronting it.
He urged the newly sworn in Commissioners to quickly settle down and acquaint themselves with the policy document of his administration, "Our Collective Vision for a New Benue," which birthed five main pillars of good governance and revenue security, agriculture-driven industrialization, STEAM-based education and health services as well as investment in critical infrastructure and promotion of gender, empowerment of women, youth, sports and persons with disability.
Governor Ortom noted that as part of efforts by His administration to deliver its promises to Benue people, reorganisation of government machinery was being done in some sectors, pointing out that those who fail to measure up would have to give way for others to come in.
The Governor while congratulating the commissioners for their appointments, also charged Permanent Secretaries and senior government officials in their Ministries to cooperate with them for optimal performance, even as he appealed to their family members, friends and political associates to shun the temptation of mounting undue financial pressure on them.
Attorney General and Commissioner for Justice, Mr. Michael Gusa while responding on behalf of his colleagues, expressed appreciation to the Governor for finding them worthy to serve in the cabinet, assuring that they would give him the desired support to succeed.
Professor Dennis Ityavyar, Messrs Bernard Unenge, David Olofu and M-Erga Kachina retained their portfolios of Education, Lands, Survey and Solid Minerals as well as Finance and Industry, Trade and Investment respectively.
Mrs Ngunan Adingi is to oversee Information, Culture and Tourism, Mrs. Ladi Ajene Isegbe was assigned to Youths and Sports with Engineer Alexander Shaapera taking charge of Works while Engineer Dondo Ahire was assigned to Water Resources and Environment with Dr. Timothy Ijir, Victor Dzungwe Ukaha and Igirgi Nyiazungwe taking charge of Agriculture and Natural Resources, Rural Development and Cooperatives as well as Women Affairs respectively.
Dr Oyiwona Godwin is to oversee Energy, Science and Technology; Chief Ekpe Ogbu is to take charge of Housing and Urban Development while Dr. Ongbabo Sunday was assigned to Health and Human Services.