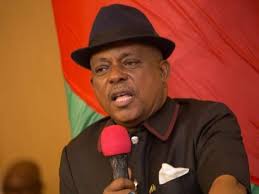 The Peoples Democratic Party (PDP) will meet today (Monday) with 45 other political parties and the Reformed All Progressives Congress (rAPC), the break-away faction of the ruling APC, today in Abuja.
It was gathered that the parties may sign a Memorandum of Understanding (MoU), which will spell out their strategic relationship ahead of the 2019 general elections.
The MoU would specifically focus on the process that would lead to fielding a consensus presidential candidate by the coalition against the presumptive candidate of the APC, President Muhammadu Buhari.
Some of the parties expected at the meeting, include the Social Democratic Party, Abundant Nigeria Renewal Party (ANRP), Advanced Congress of Democrats (ACD), Alliance for Democracy (AD), Alliance for New Nigeria (ANN), Action Democratic Party (ADP), All Democratic Peoples Movement (ADPM), and African Democratic Congress (ADC).
The PDP had set up a contact committee under former governor of Cross River State, Senator Liyel Imoke, to reach out to other political parties and seek possible coalition to fight the 2019 presidential election.
Specifically, two main options, merger and alliance, were considered. While some parties preferred merger, requiring the PDP to drop its name for a new coalition name, the others, including leading members of the PDP wanted an alliance.
However, the alliance option became more probable following resistance with the PDP to a name change.
The MoU signing would be preceded by a meeting of stakeholders of the PDP to discuss the progress report on coalition talks with other political parties, including members of the former new Peoples Democratic Party (nPDP).
An official statement by the PDP National Secretary, Senator Umaru Tsauri, said, "The party is inviting all PDP presidential aspirants, all PDP governors and former governors, members of the National Assembly and former members, all members of the BoT, members of PDP former ministers forum, and all state chairmen to a crucial meeting on Monday."
The meeting, which is fixed for 3p.m. will hold at Shehu Musa Yar'Adua Centre in Abuja.
Apart from the consideration of the coalition plans, the party leaders are also to beam their attention on the Saturday's governorship election in Ekiti State and to assess the level of preparations by the Independent National Electoral Commission (INEC).