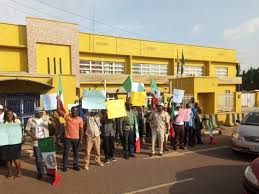 Members of the Nigeria Labour Congress (NLC) have slammed telecommunications mobile service provider, MTN over alleged non-compliance to labour laws.
The NLC officials also picketed MTN offices in various parts of the country including, Kano, Akwa Ibom, Ilorin and Enugu alleging non-compliance to labour laws and the refusal of MTN to allow unionism.
In Kwara State, Comrade Yekini Agunbiade and Issa Aremu led labour officials to the MTN office in Ilorin, the state capital, which was blocked and workers were prevented from gaining entrance to the premises.
Aremu claimed that MTN did not just disallow unionism but also pay below national minimum wage and constantly sack their workers without benefit.
He noted that the picketing will last for three days pending when the Labour leaders will decide the next line of action if the company did not yield.
He urged the Ministry of Labour to ensure that all private establishments especially telecommunication companies adhere to the Labour laws for the benefit of Nigerian workers.
In the same vein, the organised labour in Akwa Ibom state also picketed the MTN office in Uyo led by the Chairman of Nigeria Labour Congress (NLC) in the state, Etim Ukpong who said the company's labour policies are against civilised labour practices.
Meanwhile, MTN in its reaction described the picketing and destruction of their properties as a sad development noting that the safety of their employees is of utmost priority.
In a statement signed by the Corporate Relations Executive, Tobechukwu Okigbo, MTN said all workers have rights that should be protected. They added that they will continue to champion the rights of their workers whether they are part of a union or not.
"As always our primary concern is the safety and well-being of our employees, some of whom were attacked by supposed NLC operatives and have sustained injuries.
"We do not prevent our employees from associating amongst themselves as they deem fit and owe our employees the obligation to ensure they are not compelled to join associations.
"MTN supports the freedom of association as enshrined in the Nigerian Constitution," the statement read in part.