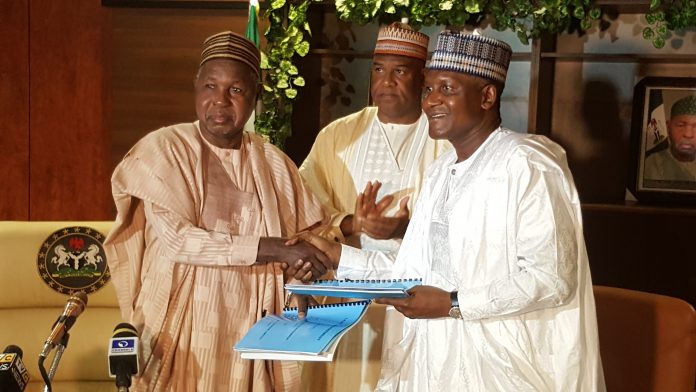 The Group President/CE, Dangote Group, Aliko Dangote, has signed an agreement with Katsina State Governor for reviving and upgrading the moribund Songhai project in Dutsinma town, under a 10-year lease agreement.
The initiative which will see an initial investment of half a billion Naira by Dangote Group will ensure the installation of the state-of-the-art tomato research and development (R&D) facility equipped with drip irrigation and fertigation systems and ultimately, the cultivation of 10,000 hectares of farmland and establishment of tomato processing plant within the Zobe dam region.
Speaking at the signing and handing over ceremony of the Songhai project, renowned Africa Industrialist, Alhaji Aliko Dangote expressed his commitment towards supporting Katsina State Government in reviving the Songhai project, putting its arable land to good use while creating employment for farmers in the region.
He said "Today is one of my happiest days to have finally concluded and signed this agreement so we can take action. I assure you, we will not only cultivate and process tomatoes, we will also help Katsina effectively utilize its vast arable land.
"With your support in providing an enabling environment, we will move to the site quickly to begin cultivation and more importantly integrate farmers in our out-grower scheme to make this project a reality. Apart from tomatoes, we will farm other crops and do our best to make this project succeed."
Reacting to the development, Katsina State Governor, Aminu Masari who described Katsina State as investor-friendly lauded the initiative as a significant milestone and a great turning point in the economic transformation of Katsina State and its people. He further described the project as one that will not only serve Katsina State but West Africa region and beyond.
The Governor promised to provide Dangote with the necessary support to ensure the success of the project which he said will further open up local economy in the state.
According to Project lead, Robert Coleman, Dangote will leverage technology and skilled manpower, to farm tomato in and out of season. The research and development (R & D) facility will provide a training hub for farmers, agronomist, and students within the region, generating both skilled and unskilled employment opportunities for up to 1,000 people.