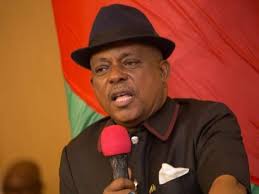 The Peoples Democratic Party (PDP) has asked the international community to hold the All Progressives Congress (APC) and its Federal Government responsible should Nigeria's democracy fall into any harm in the coming days.
The party stated that its caution was as a result of an alleged plot by the APC and its agents to flood the National Assembly with armed plain-clothes security operatives to compromise the security architecture to enable the forceful takeover of the leadership of the Senate by the minority APC senators.
The opposition party, in a statement by its National Publicity Secretary, Kola Ologbondiyan, warned that any attempt by the APC to forcefully take over the control of the National Assembly would be a recipe for crisis and anarchy, saying this would be directly resisted by Nigerians.
"Nigerians would recall that we alerted the nation that the purported overseas vacation by President Muhammadu Buhari was to enable his cabal overrun the National Assembly in a manner reminiscent of the siege at the Benue State House of Assembly, so as to sack the current elected Senate leadership and install their stooges," the statement read.
"When this is done, the Buhari Presidency will, in its characteristic response, claim the 'Mr President is unaware.'
"The PDP, however, cautions, in the strongest possible terms, that Nigeria as a nation will never allow such direct assault to the highest symbol of our integrity as a democratic state.
"The laws of our nation regarding the sanctity and sovereignty of our legislature are clear and our citizens will never allow any person or group of persons, no matter the circumstances, to undermine the constitutional integrity of the legislature as representatives of the people. Any attempt to test the will of the people in this direction is a clear recipe for a very serious crisis.
"The laid down rules for reconvening the Senate whenever it is on recess, which must be followed when it becomes compelling to reopen the Senate on a date order than the earlier adjourned date, are clear and direct.
"In such a circumstance, Order 12(2) of the Senate Standing Rule (2015) clearly vests such powers and functions in the Senate President, who shall give notice of such new date and time."