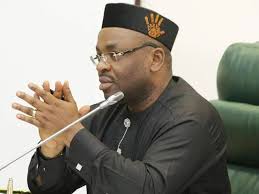 Governor Udom Emmanuel of Akwa Ibom says the Peoples Democratic Party (PDP) will win in the state even with the use of option A4 method of voting.
Emmanuel said this during the party's election campaign on Wednesday in Uyo.
In Nigeria, open ballot system, also known as Option A4, is a voting method in which voters vote openly by queuing or otherwise, indicating the candidate of their choice.
This is as opposed to a secret ballot, where a voter's choices are confidential.
The system minimizes incidences of election rigging that comes with the secret ballot system as well as other electoral fraud-related practices.
He challenged the opposition to an option A4 voting pattern, adding that if it was effected in Akwa Ibom, the PDP would win overwhelmingly.
Emmanuel commended the people for casting their votes for the PDP in the Presidential/National Assembly elections of Feb. 23.
He advised the people not to be deceived by blackmail and lies from opposition political parties, but to endeavour to go out on Saturday, cast their votes and defend them.
"Akwa Ibom State is a peaceful land. Today I am here to appreciate the Akwa Ibom people.
"I am here today to tell you Akwa Ibom people that I salute you for standing firm, for your resilience in letting the world know the truth between light and darkness, God and man.
"If Akwa Ibom is a land named after God, the wicked man will continue to fall; Akwa Ibom shall be liberated. Let me also thank all of you for voting PDP on Feb. 23.
"Let me thank all those who have completely collapsed their stature for the PDP.
"Let me also thank all those people who have defected to PDP. I want to assure them that we have many mansions in PDP.
"The PDP is big enough to cover them; PDP is the party that can bring unity, development, infrastructure development and preach righteousness," he said. (NAN)