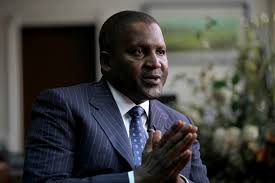 In response to the incessant complaints about the recklessness of Dangote truck drivers on the road leading to many accidents, the management of Dangote Industries Limited has issued a passionate appeal to members of the public to assist in monitoring and reporting both recklessness and illegal haulage of contrabands goods by some of its truck drivers.
The company has also set up hotlines for the public to report such truck drivers, with a promise to appropriately compensate calls that lead to arrest of errant drivers.
Noting that trucks belonging to Dangote Cement are only allowed to carry Cement, High Grade Gypsum and Coal; those belonging to Dangote Sugar (NASCON) are authorize to carry only Salt and Dan Q seasoning and trucks belonging to Agrosacks, the bags producing arm of Dangote group, can only carry bags, belonging to Dangote flour Mills, Wheat, Flour and Danvita.
The Dangote Group in a statement alerting and encouraging the public to report any suspected Dangote truck driver involved in illegal haulage provided hotlines to make such reports.
The statement said: "Please call Dangote Industries Limited Management hotline on all information regarding illegal haulage activities."
The management also issued a stern warning to those illegally transporting unauthorized goods through its trucks. "This is to warn those that illegally transport materials on Dangote truck that such unauthorized goods, when found, shall be confiscated and such owners prosecuted to the full extent of the law," it said.
It would be recalled that the company recently intercepted one of the company's truck loaded with contrabands in Ibadan, arrested the drivers and handed them over the Nigerian customs for further investigations and prosecutions. The arrest was effected by a crack team of the company's security personnel led by its Chief Security Officer who acted on intelligence, bordering on misconduct by some of its drivers.
While handing over the drivers and his motor boy to the Customs Authority, Assistant General Manager, in charge of Security Services, CSP Ali Garba explained that the company has a surveillance section that monitors all his trucks and drivers' activities.