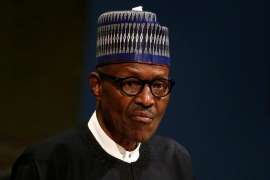 Nigerian lawmakers on Tuesday issued a list of demands to the president, largely related to security, in the latest sign of strained relations between the executive and legislature months before the country goes to the polls.
President Muhammadu Buhari won election in 2015 mostly on his vow to improve security and fight corruption. But tensions with lawmakers and members of his own party have emerged in the last few months and critics have questioned his record.
Nigeria is beset by security challenges, including a jihadist insurgency and communal violence between farmers and herders. Critics of Buhari, a former military ruler, say his fight against corruption has only targeted his opponents.
Both houses of parliament held a rare joint session behind closed doors before stating their resolutions.
Security agencies must "curtail the sustained killings of Nigerians across the country and protect life and properties of Nigerians as this is the primary duty of any responsible government," they said in one of the 12 resolutions.
Lawmakers also called for an end to the "systematic harassment and humiliation by the executive of perceived political opponents."
"The National Assembly will not hesitate to evoke its constitutional powers if nothing is done to address the above resolutions passed today," concluded lawmakers, who have the power to impeach the president.
A presidency spokesman declined to comment on the issues raised.
It is latest sign of discord between the presidency and parliament, who were embroiled in a standoff earlier this year over the confirmation of new members of the central bank's monetary policy committee.
The resolutions were read out by Senate President Bukola Saraki, who on Sunday was asked by police to answer allegations that he had links to a gang behind a spate of armed robberies. [nL5N1T50S2]
Saraki, who denied any wrongdoing, has been dogged by numerous accusations of misconduct since becoming Senate president in 2015, though none have led to convictions. He was not the ruling party's preferred candidate, which caused strains in his relationship with Buhari.
Fissures within the ruling APC, a coalition party, have come to the fore in the last few months in the run-up to the February 2019 presidential election.
On Monday, in the wake of the allegations levelled at Saraki, a faction of the party with close ties to the Senate president issued a statement reiterating its complaint that many of its members felt ostracised.
"It has become evident that Mr. President must be called to order through an appropriate legislative instrument," the opposition People's Democratic Party said in a statement.