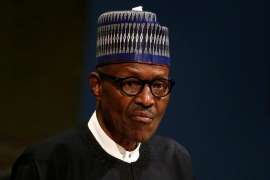 President Muhammadu Buhari has charged Governors elected on the platform of All Progressives Congress (APC) to approach the forth coming national convention of the party with unity and ensure they come out stronger.
He gave the charge after a meeting with Governors inside the conference room in the office of the First Lady.
The talk of harmony was made more credible by the presence of Kwara governor, Abdulfatah Ahmed, who has been accused of sponsoring a gang of armed robbers that attacked several banks in Offa, killing 33 people.
Kogi State governor, Yahaya Bello who spoke to journalists at the end of the meeting, said the president offered an appeal to unity.
"Mr. President is our father and as Governors of APC, we usually meet with him from time to time to rub minds and discuss issues that concern our party and the country. He wished all of us well and advised that we should approach the convention in unity and we all agreed to go there in unity and come out stronger," he said.
Deep divisions that existed in the Party before Buhari was elected over three years ago haven't gone away, said a member of the party on Wednesday.
" For now, that division poses yet another problem that the party will have to tackle—soon. We haven't settled on a final way to address the issue of divisions and aggrieved party members across states," he said under the condition of anonymity.
Meanwhile, the APC has warned the progressives governor chairman, Gov Rochas Okorocha, to be sensible or get sanctioned.
"The sensible thing to do when you find yourself in a ditch is to stop digging, said party publicity secretary, Bolaji Abdullahi.
"We therefore, once again urge Gov. Okorocha to tread the path of caution and reconciliation and to work with the duly elected Party executives in the state for the good of the Party. We shall however not tolerate his constant assault on the Party, either directly or through proxies", said the party.
" In recent weeks, the Imo State Governor, H.E. Rochas Okorocha, has made libellous attacks on our Party and its leaders a daily occurrence. Hardly a day passes by without Governor Okorocha verbally assaulting our National Chairman, Chief John Odigie-Oyegun and other Party leaders over the recently concluded Congresses in Imo State, the statement said.
The APC has lately been shaken and to some degree destabilized by the rise of internal disunity—factions and tendencies in some states, like, Kano, Kaduna, Adamawa, Bauchi, Imo, Kogi, Kwara, Oyo, Ekiti, Delta, and Tarawa.
Division within the APC party, like division within the Peoples' Democratic Party,  (PDP) is neither unusual nor necessarily unhealthy. It is a reminder that unity bears a certain resemblance to complacency, and the only permanent condition of politics is impermanence.