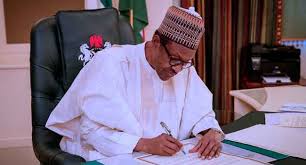 President Muhammadu Buhari, on Thursday, signed the proposed N30,000 minimum wage bill into law.
This follows the submission of the report by the Presidential Technical Advisory Committee on the National Minimum Wage headed by Bismarck Rewane.
The two chambers of the National Assembly had passed the bill and transmitted it to the President for his assent.
The President had also earlier set up a tripartite committee to look into the demands of the organised labour which came up with the new minimum wage.