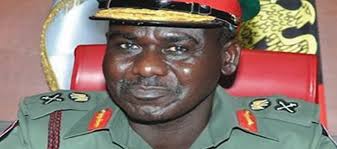 The Nigerian Army said calm has been restored at Maiduguri Airport seized for two hours on Sunday by riotous troops, that it described as 'unscrupulous".
In a statement on Monday, Colonel Onyema Nwachukwu, Deputy Director Public Relations, Operation Lafiya Dole Theatre Command said the protest by the few unscrupulous troops happened while the command was conducting a redeployment of soldiers at the Maiduguri Airport, following a directive to review troops' deployment in Maiduguri metropolis, to reinvigorate the security architecture of the city.
"The redeployment became expedient after a recent assessment of the security situation by the Theatre Command. Regrettably however, a few of the troops who had misunderstood the development and erroneously assumed it was going to negatively affect their rotation from the theatre of operation became agitated and reacted by firing into the air.
"Calm has however been restored, as the Theatre Commander, Major General Abba Dikko has promptly taken charge of the situation after addressing and admonishing the troops.
"The Theatre Command undoubtedly considers this ugly incident quite regrettable and appropriate measures are being taken to forestall a recurrence", he added.
The aggrieved soldiers claimed they had overstayed and were resisting redeployment to Marte, one of the towns liberated by the military several years ago from the control of Boko Haram terrorists.
The protesters are part of the special force deployed to provide air defence and enhance security at the airport.
The troops barricaded some section of the airport and fired shots in the air, causing pandemonium, as hundreds of pilgrims waiting to be airlifted to Saudi Arabia for the Hajj, scampered for safety.
One of the protesting soldiers who spoke under condition of anonymity, said the planned deployment was against the directives by the Army Headquarters.
"The army special forces deployed to the airport were not trained to engage in ground battle rather trained to provide air defence.
"Our task is to provide air defence. Alas, special forces trained to fight ground battle are stationed in Maiduguri and we are deployed to go and die in Marte".
Another soldier lamented that the troops have overstayed in the Northeast fighting Boko Haram, despite the rotation order by the military authorities.
He said many of them have spent over three years in the battle field.
"Some troops of Operation Lafiya Dole were deployed and worked for over three years in the theatre and not rotated as against the directives by the Chief of Army Staff, Lt.-Gen. Tukur Buratai.
"The command is directed to redeploy soldiers back to their bases after spending stipulated time in the theatre of operation.
"We have spent over three years in the northeast and we should be transferred out of the northeast and not within".