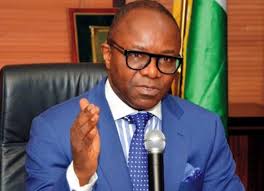 Minster of State for Petroleum, Ibe Kachukwu has said the nation's refineries will be fully functional by the end of 2019 as the Federal Government is committed to ensuring that the importation of petroleum products is curtailed.
Kachukwu spoke at Ibigwe-Ohaji in Ohaji\Egbema council area of Imo State during the ground-breaking for construction of the 5,000 BPD Modular Refinery by Walter Smith petro-chemical limited.
The project is being partnered by the Nigerian Content Development and Monitoring Board (NCDMB).
The Minister said that the Buhari administration was committed to ensuring that the nation's refineries became functional by the end of 2019.
"It would be sad if by the end of 2019 we are still importing fuel from abroad.
"So, we are committed in repairing the refineries; by that we can at least process about 500,000 barrels of crude per day.
"The policy of this administration is go back to refining about 20 per cent of our crude which will move to 50 per cent in the next five years."
The Minister who commended management of Walter Smith for partnering the NCDMB to realize the project said that he was hopeful that in 18 months the modular refinery would be inaugurated.
Executive Secretary of the NCDMB, Mr Kesiye Wabote, said the Board invested US $10 million to catalyze the development of the Modular refinery and took 30 per cent equity in the project.
He added that the NCDMB would divest when the modular refinery was fully developed and operational.
Wabote pointed out that NCDMB was promoting the Walter Smith Modular refinery as part of its capacity development mandate .
He said that the investment was also in line with the Nigeria Content 10- year strategic plan.
The Chairman of Walter Smith, Mr Abdulrazaq Isa, said that the Walter Smith 5,000 BPD Modular refinery was conceptualized in 2011 to mitigate the frequent outage of the third-party export trans-Niger pipeline.
He added that it was to optimize the full value of the country's produced crude through in-country products for the domestic market.
"When operational in 18 months' time we will produce per day: Naphtha – 24,643 liters, Kerosene – 54,691 liters, Diesel – 300,168 liters, HPFO – 409,710 liters.
"The refined products will be sold and evacuated from the refinery via dedicated trucks from bay five truck rack where products are loaded into the tankers.