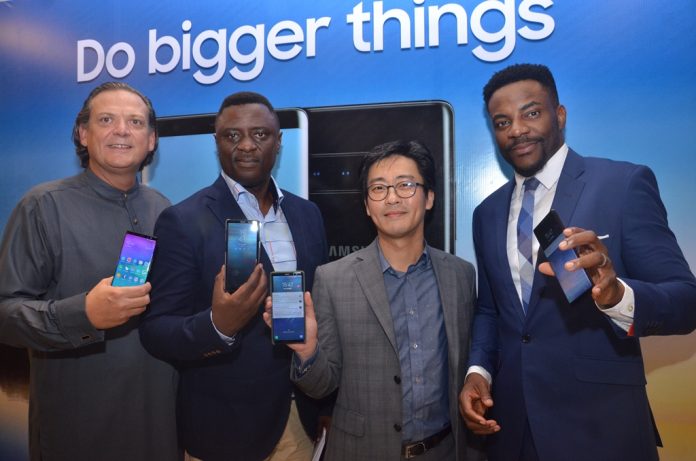 Samsung's newest flagship Smartphone, the Galaxy Note 8 is now available in the Nigerian market, according to an official statement by Samsung Electronics West Africa. The Note 8 which was launched in Lagos last week, takes cues from Samsung's Note and Galaxy S lines, while boasting even more exciting features making the smartphone a stunning device.
Made with Corning® Gorilla® Glass 5.0, the new smartphone has a 6.3-inch QHD screen, the largest screen on a Galaxy Note phone, a dual camera, two 12-megapixel cameras on the back – a dual pixel primary wide-angel sensor with f/1.7 aperture and OIS, and a secondary telephoto lens with f/1.4 aperture and OIS. The smartphone features the company's signature Infinity Display, giving the screen more surface area for use with the S Pen.
Director of Information, Communication & Technology for Samsung Electronics West Africa, Emmanouil Revmatas, said that the infinity display is a game changer for Note users because where others see more screen, users see more space to do what they love and get things done.
"The Galaxy Note 8 has the biggest screen ever on a Note device, yet its narrow body makes it comfortable to hold in one hand," Mr. Olumide Ojo, Director of Mobile for Samsung Electronics West Africa.
"With the Super AMOLED technology, combined with a resolution of 2,960 x 1,440, all the typical characteristics featured in previous Samsung phones such as vibrant colors, high contrast, and inky dark blacks are incredibly sharp. The Note 8's display is absolutely gorgeous with a screen fantastic for all kinds of use such as watching YouTube videos, playing games, casual web browsing, and boosting productivity."
Built with 6GB RAM, a 10nm processor, and 64GB memory space (expandable up to 256GB), the Galaxy Note 8 offers users more flexibility for internet browsing, video streaming, playing games, and multitasking. Importantly, the device is also water and dust resistant (IP68). Users do not have to worry about getting the device damaged when accidentally dropped in fresh water, as deep as 1.5 meters, for up to 30 minutes.
The S Pen, like the Galaxy Note 8 itself, is IP68-rated for water and dust resistance; users can easily jot down thoughts and ideas on a wet screen without interruption. The S Pen can also translate full sentences in foreign languages, depending on the country and region. All you need do is let the S Pen hover above the selected words. Thanks to the "Screen Off" Memo, users can write up to 100 pages of notes, as well as edit and pin them to the Always-On Display, an easy way for users to capture and share their thoughts with ease. The S Pen also automatically converts units of measurements and foreign currencies. There is also an alarm that will go off once you start moving without docking it away.
"One of the things our consumers look out for when purchasing a device is the camera. Samsung has clearly set the standard for smartphone cameras and, with the Galaxy Note 8; we are delivering our most powerful smartphone camera yet. The Galaxy Note 8 is also equipped with an industry-leading 8MP Smart Auto Focus front-facing camera for sharp selfies and video chats," said Mr. Emmanouil Revmatas.