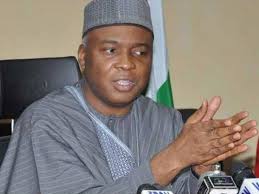 Senate President Bukola Saraki will lead the Peoples Democratic Party's (PDP) high powered campaign committee for the 22nd of September gubernatorial election in Osun State.
Accepting the job, Saraki pledged to work tirelessly with members of the committee to deliver the party's governorship candidate Senator Nurudeen Ademola Adeleke.
"We will work to ensure that the PDP wins the Osun election. The election is important because PDP has lost two governorship elections in the South West, Ekiti and Ondo states. We must win Osun to prove that Osun is the home ground of the PDP.
"The All Progressives Congress (APC), is already no more popular in Osun. I hope that the President, Muhammad Buhari will live up to his promise to world leaders, that elections will be free and fair in Nigeria.
"The calibre of people in the committee shows the seriousness of the assignment," he stated.
The appointment is Saraki's first since he dumped the All Progressives Congress (APC) and returned to the PDP.