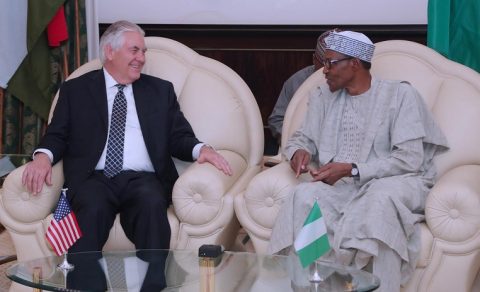 The Federal Government has explained that some 110 Dapchi school girls abducted in Yobe State and the remaining Chibok girls abducted in Borno State had not been rescued because the government wants to ensure they were rescued alive.
While playing host to United States Secretary of State, Rex Tillerson, in Abuja yesterday, President Muhammad Buhari explained that the government was in negotiation with the girls' abductors in order to ensure that they were rescued alive.
Buhari's explanation was to underscore why the government has not applied military option in the efforts to rescue the girls that were abducted by Boko Haram insurgents.
He disclosed that the government was collaborating with international organizations and negotiators, to actualize the safe release of the girls.
President Buhari remarked: "We are trying to be careful. It is better to get our daughters back alive", while assuring Tillerson that his government would continue to put in its best in order to secure the country and its citizens.
He disclosed that he would visit Yobe State in the next few days as part of his "condolence and sympathy visits to areas where we have had unfortunate events".
Buhari reiterated his position that he would deliver free and fair elections in 2019.
He said that prior to the 2015 elections, the then United States Secretary of State, John Kerry, visited Nigeria and urged all stakeholders to the election to play by the rules, and this we complied with.
Tillerson described Nigeria as a very important country to the United States, and assured that the Donald Trump government would support Nigeria to achieve peaceful elections in 2019.
"You have our support in your challenges. We will support opportunities to expand the economy, commercial investments, and peace polls in 2019", the Secretary of State said.
He lauded President Buhari on his administration's war against corruption.
Buhari, in acknowledging the commendation, informed Tillerson that recovered looted funds were being deployed into infrastructural development.
Tillerson made a brief visit to Nigeria after visiting Kenya.