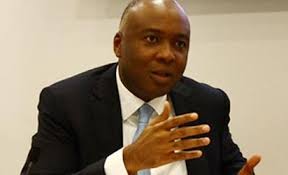 The Senate has directed the Police to arrest the Chief Executives Officers (CEOs) of Glo Mobile, British American Tobacco (BAT), Dana Group and 27 others for failing to appear before its committee probing national revenue loss.
The companies are alleged to have been involved in the N30 trillion-revenue believed to have been lost by the country in its maritime sector.
The other companies are CCECC, Crown Flour Mills, Olam Int. Ltd., Hong Xing Steel Co. Ltd., Visafone, African Wire, Star Comments and Allied Ltd. and Aarti Steel Nig. Ltd.
Others are Abyem-Diva Int. Ltd., Gagasel Int., Friesland Capina, Etco Nig., Edic Chemicals and Allied Distributors, De United Foods, Don Climax Group, Skill G Nig. Ltd., Premium Seafood and La Rauf Nig. Ltd.
Also involved are Standard Metallurgical Co. Ltd., Kam Industries, IBG Investment Ltd., Orazulike Trading Co. Ltd., Popular Foods Ltd., A-Kelnal Integrated & Logistics Services, African Industries, African Tiles & Ceramics and ZTE Nigeria.
It would be recalled that the Senate Joint Committee on Customs, Excise and Tariff and Marine Transport, handling the investigation, had invited 63 firms accused of complicity in the scam but only 33 honoured the invitation.
The order to arrest the CEOs of the 30 firms, who failed to turn up, was announced by the Chairman of the committee, Senator Hope Uzodinma, at the committee's meeting on Friday in Abuja saying the refusal of the officials to honour the invitation in spite of several reminders was disrespect for the National Assembly.
Uzodinma warned that the Senate would not tolerate such behaviour from anybody or institution, particularly in the present situation that involved Federal Government funds revealing that investigations carried out by the joint committee showed several forms of infractions that have cost the country huge amount of money in revenue loss.
"It is no longer going to be business as usual," he said.
"We have directed the Nigeria Police to arrest the heads of the firms and bring them before us.
"If we can suspend our recess as lawmakers to see to the end of this investigation, I see no reason why the firms that have been indicted will not come to defend themselves."
He however asked the firms that honoured the invitation to go through the documents given to them and return next week for defence.