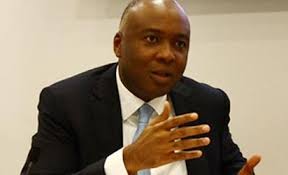 The Senate has frowned at the non-circulation of coins in the country, advising the Central Bank of Nigeria, CBN, to convert lower naira notes into coins to cater to highly repetitive transactions in the economy.
This followed a motion sponsored on Tuesday by Senator Mustapha Bukar (APC, Katsina South) on the non usage of coin currencies and its negative effects on the economy.
Moving the motion, Bukar expressed worry that although the country's currencies are in notes and coins, indications are that coins are fast going out of fashion and into extinction in Nigeria.
"Coin currencies are designed globally to cater for highly repetitive transactions because of the nature and conditions under which they happen, such as crowded market place, bus stations, congested traffic, and varying weather conditions, including rainy, sunny and humid conditions in which notes are ill-suited for them.
"Countries regularly upgrade their coinage to keep pace with the price of this category of retail items. Aware that an overwhelming majority of Nigerians engage in these transactions due to their income," he said.
The lawmaker stated that coins are used being used in the United States, United Kingdom, Europe, United Arab Emirates, and should be prevented from going into extinction in Nigeria.
According to him, "Research recently conducted by experts shows that in the early 90s coins were in use and considered good money in Nigeria and now it is the only country in the entire west African sub-region where there is total absence of coin in the total economy.
"The local retailers keep rejecting the coins because commercial banks won't accept them as deposit, even when they are reflected on paper, and the CBN still recognizes them as legal tender.
"Since the three coin denominations of 50 kobo, one kobo and 10 kobo have lost their values due to inflation, the conversion of lower currency notes to coins will facilitate retail transactions in the economy, like we have in developed countries.
"Despite the huge budget by the CBN on sensitising Nigerians on the need to accept coins, the transaction chains were broken and banks and customers reject the currency, thus, promoting corruption and escalating inflation to the extent of diminishing the value of the coins."
The Deputy Senate President, Chief Ike Ekweremadu, who presided over the session, called on the CBN to sanction deposit money banks that have made an habit of rejecting coins, and urged the bank to bring back coin usage.