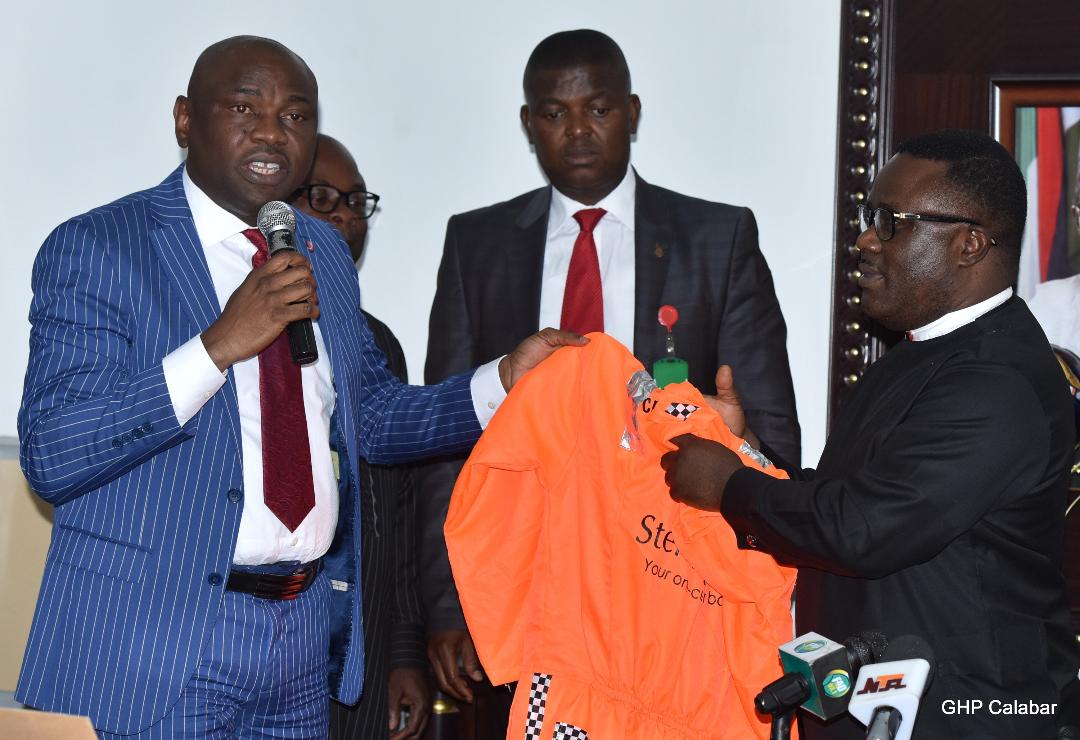 Sterling Bank Plc has taken its nationwide campaign towards ensuring safe, secure and clean environment to Calabar, the Cross River State capital, where it donated 700 reflective jackets for gardeners, and street cleaners to the state government.
Leading a delegation on behalf of the bank's Management, General Manager, South-South, South-East and Mid-West, Institutional Banking, Sterling Bank, Mr. Emmanuel Emefienim, while making the presentation of the reflective jackets to the state governor, Professor Ben Ayade said the bank cares so much about the safety and security of those who are involved in keeping the environment clean.
Emefienim said: "As a bank doing business in Cross River State, we feel obliged to support you in our own little way, at least to make the environment safe, and secure, especially in terms of cleanliness. We have done this for several states; Lagos, Rivers, Abia, Kwara and Edo. What we have realised is that some of this people that help us clean the environment are vulnerable to accidents."
While informing the Governor of the bank's intention to partner Cross River State ministry of environment to identify strategic roundabouts in the state, it can also beautify and maintain, said the jackets are customized so it identifies clearly with the Calabar city gardeners and cleaners.
In his remarks, Ayade expressed gratitude to the management of the bank, saying their gesture has sent a serious message that they were interested in the well-being of the state.
The governor expressed delight that Sterling Bank is coming to bring value and service to the state and not just to do business.
In his words: "To know that I am not doing so much with Sterling Bank at this point, you have really found a very smart and intelligent way that you have twigged my hand, and my conscience to say we must do business with Sterling Bank."
Ayade urged public servants, and members of his cabinet to start doing business with the bank, adding that the state would support Sterling Bank to establish a leisure park in the city of Calabar, which will bear the name of the financial institution.
"And so, I challenge all management staff and my top government functionaries and cabinet members; you must do business with Sterling Bank because for somebody who cares, about your cleanliness, worries about your business and puts his heart and skin in your own game, definitely he cares. They are not doing this because they are bankers."