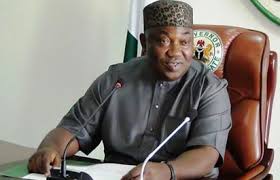 The Supreme Court, on Friday, declined to remove Governor Ifeanyi Ugwuanyi of Enugu State from office over allegation that he was illegally nominated by the Peoples Democratic Party (PDP) to contest the April 11, 2015, governorship election.
The apex court dismissed the suit which was lodged by a chieftain of the PDP in the state, Senator Anyogu Eze, as lacking in merit.
In a unanimous verdict, a five-man panel of Justices of the apex court resolved all the issues against the appellant and upheld the judgement of the Abuja Division of the Court of Appeal which earlier affirmed Ugwuanyi's election victory.
The panel, presided by Justice Kayode Ariwola, berated the appellant for raising issues it said was previously decided, saying there was no point re-litigating on issue bordering on the primary election that produced Ugwuanyi.
According to the court, by the provision of section 87 (4) and (9), the appellant who did not participate in the said primary election, lacked the locus-standi to query the outcome.
The apex court further awarded N1million cost against the appellant, in favour of Ugwuanyi.