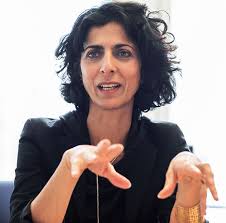 Days after the conclusion of the general elections, the European Union Election Observation Mission (EU EOM) has said there is a real need for serious reforms in Nigeria.
Chief Observer, Maria Arena MEP, said this during a press conference in Abuja on Monday.
According to her, the need for the reforms is as a result of the "systemic failings and electoral security problems of the last few weeks and months".
While Arena noted that compared to the Presidential election, there were operational improvements in the governorship and state assembly elections of March 9, she believes it was still overshadowed by a "troubling electoral security environment, abuse of incumbency and institutional failings".
This, according to her, may have resulted in the low voter turnout witnessed during the elections.
She described it as disappointing that only a small portion of "what is by far and away Africa's largest electorate actually cast a vote on both election days".
She, therefore, stated that the EU backs the call by civil society organisations that there is an urgent need to restore faith in the electoral process.
Read Full statement below.
Speech of Chief Observer, Maria Arena MEP EU Election Observation Mission to Nigeria Press conference: Monday 11 March February, 14.00 hours, Hilton Hotel, Abuja
INTRODUCTION
(Chief Observer) Good afternoon, Your Excellencies, members of the media, election observers, ladies and gentlemen.
Thank you very much for attending this press conference on the European Union Election Observation Mission's preliminary assessment of the 9th of March governorship and State House of Assembly elections.
It is preliminary because vital parts of the process are ongoing, including the collation of results. As you know, this is our second preliminary assessment of Nigeria's general elections. Our first, on the 25th of February, was about the presidential and National Assembly elections.
The collation of results was ongoing at this point, so, in this preliminary statement of the statelevel elections, we will also give our findings and conclusions on the collation of results for the 23rd of February elections.
First, some words of thanks: to INEC, to political parties and candidates, election officials, security agencies, journalists and civil society organisations, who have taken time to meet with us over the last nine weeks. And to colleagues at the EU Delegation, EU member state embassies, and those of Canada, Norway and Switzerland for their cooperation. Second, a brief reminder of our mandate: we are here because INEC invited the EU to deploy an election observation mission.
Our mandate is to observe the electoral process, to offer an independent and impartial assessment, and to make recommendations for future elections. The mission is independent in its findings from the EU delegation, EU member states and EU institutions. So, as I said two weeks ago, we are here to serve the people of Nigeria, not the politics of the day.
On the 9th of March, we had 73 observers following voting, counting and the collation of results in 22 states, in all six geopolitical zones. We observed in 223 polling units and, so far, in 81 collation centres. We are still observing the collation of results. And so to our assessment of the 9th of March elections.
ASSESSMENT OF THE 9 MARCH ELECTIONS
Although election operations improved, the elections were also marked by an overall low turnout and violence, including against election officials and voters.