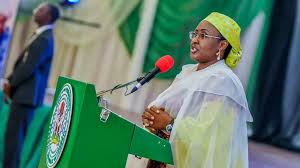 Wife of the President, Aisha Buhari, has lamented that two powerful personalities have constituted themselves as clogs in the wheels of speedy development of the administration.
Speaking at a conference organized by Project 4+4 in Abuja, Aisha did not however mention the names of the powerful persons.
The First Lady explained that the government has achieved a lot but could have achieved more or even achieved all it has in one year but for two people in government who will never allow things to move fast.
The President wife said that she was disappointed in men who rather than fight these two men will go to them in the night begging for favour. Mrs. Buhari urged Nigerian women to rise up and fight.
"I have realized that Sen Babafemi Ojodu, Special Adviser political to the President, and Dr. Hajo Sani, my aide Sajo and wife of the Vice-President Mrs Osinbajo are not comfortable with my saying this and want me to confine myself to my prepared speech but we must say the truth," she said with emotions.
The President's wife insisted that the powerful duo are retrogressive elements preventing the government from moving forward.