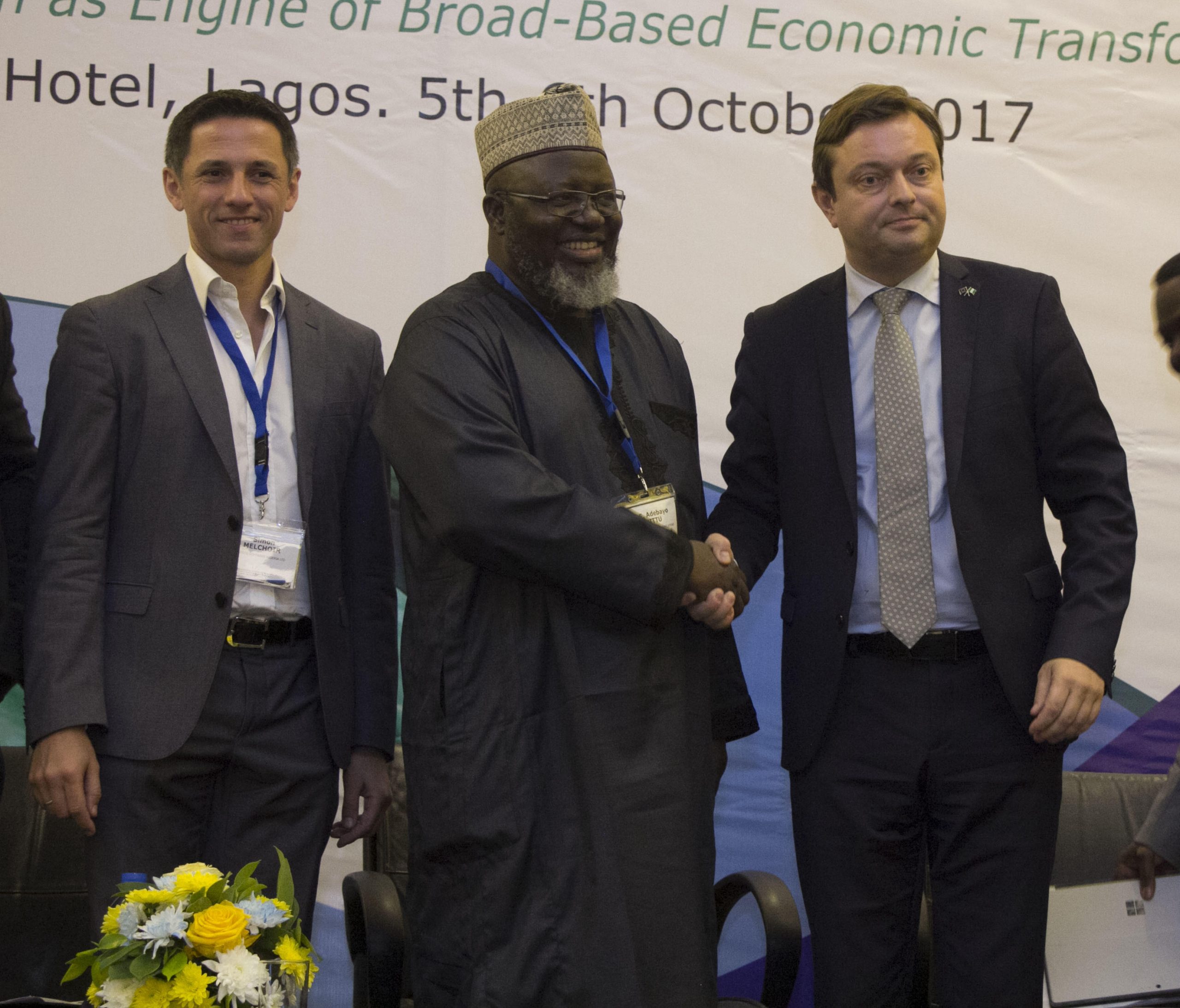 The Ambassador and Head of Delegation of the European Union in Nigeria, Mr. Ketil Karlsen has said that European Union investors are not looking to Nigeria as a quick win or dumping ground but as a strategic plan to reach the rest of West Africa.
The new Ambassador who was speaking in an interview on the sidelines of the just concluded 6th EU-Nigeria Business Forum held in Lagos, said in 2016, the value of trade between Nigeria and EU member states was N20 billion Euros and in favour of Nigeria. He said despite that, "We are not satisfied because there are more we can do and that is why we are bringing up the Economic Partnership Agreement (EPA) to further strengthen that relationship," he said.
He said one of the main priorities he has as he assumes office as ambassador is really developing an already flourishing partnership between the European Union and Nigeria. "The European Union is a natural political partner for Nigeria, so there are many things we need to discuss in the coming years," he said, adding, "Of we will continue to work with Nigeria as a large minded partner. Trade between the EU and Nigeria is something very significant. We are each others biggest trade partner. 39 per cent of all exports from Nigeria went into Europe last year, valued at 20 billion Euros. But we feel that there is an unused potential that can still be exploited.
"The EPA that is there on the table, we feel that this is really the opportunity to create conducive environment, to create the transparency, to create the long term strategies that will help investors to come to Nigeria and invest in Nigeria from medium to long term as a hub for West Africa, as a way to access the European market and fundamentally to create new business opportunities."
Earlier in his address at the event with the theme: Youth as engine of broad-based economic transformation, Minister of Communication Technology, Mr. Adebayo Shittu said, the Government of Nigeria has been conscious of the role Information and communication technology (ICT) can play in national development and has therefore been committed over the last 15 years to ensuring that ICT facilities and services are expanded rapidly.
He said since Nigeria returned to democratic governance in May 1999, the attention of the world returned to Nigeria as the country with the highest potential for investment on the continent adding that so far, over $60 billion has been invested in the ICT sector since year 2001 when digital mobile services were launched.
While calling for support from EU nations, the minister lamented that figures coming from the Nigerian Bureau of Statistics (NBS) show that over 26 million Nigerian youth are unemployed or underemployed. "Our educational institutions are producing thousands of graduates but many are not likely to secure appropriate jobs," he said.
He commended the organizers of the EU-Nigeria Business Forum for their commitment towards Digital Economy in Nigeria. "I hereby solicit your invaluable support for our ICT strategic Roadmap 2017-2020. Nigeria believes in partnerships and has valuable experience to share and as we imbibe best practices from other countries."