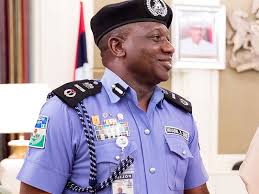 By Azu Ishiekwene
It might appear strange that of all the problems that the Inspector General of Police, Ibrahim Idris, has on his table his biggest concern is how to squeeze a journalist to disclose the source of a leak. But there's a reason for his obsession.
One week ago, Samuel Ogundipe, a reporter with Premium Times, wrote a story from a leaked letter by IGP Idris to Acting President Yemi Osinbajo, which was supposed to be an interim report on the invasion of the National Assembly by the State Security Service.
The letter was not published by Premium Times alone. Other newspapers feasted on it. The social media was awash with it as well. So, why has Idris made Ogundipe and Premium Times his scapegoat?
The suspicion of the management of Premium Times is partly correct. But there's more to it. The IGP's high-handed response may not be unconnected with a series of critical stories published by the online newspaper about the Force. In other words, Idris thinks it's his job to teach Premium Times what to report and how to report it, if not for the public, at least for Idris Times published and edited by the editor-in-chief in Edet House, Abuja.
My guess is that there's something deeper, much deeper, about this particular scoop that wraps the multiple private and public miseries of the Idris years into a single, devasting blow for the man.
After two years of trying to figure out what his job is about and punching above his weight in spite of his best efforts, the heat is getting to him and Premium Times just happened to be his nearest target.
But how can he forget that Ogundipe, arguably one of the best investigative journalists along with Nicholas Ibekwe (also of Premium Times), did not draw "the first blood?" How can Idris forget that the press is only a messenger, a witness to truth bound by constitutional obligation to hold government accountable?
It was Senator Isah Misau, not Premium Times, that first accused IGP Idris of being one of the worst to reach the top in recent times.
Misau, a retired police officer familiar with where the dead bodies in the Force are buried, said, on the floor of the Senate Chamber last year, that bribes-for-promotions and postings had worsened under Idris.
He said the IGP made things worse by even trying to bribe First Lady Aisha Buhari with two SUVs that should have been out chasing criminals and dared the Force to deny his allegations.
Of course, the Force denied it, but the growing reports of violent crimes across the country on Idris' watch and the seeming helplessness of the Force did not help matters. Everyone except those in Idris Times, began to question the competence of this graduate of Agriculture and Law.
But the worst was yet to come.
Sometime in May, Idris was in Kano to launch the Police Technical Intel unit. In an address which could hardly have been missed had he decided to give an off-the-cuff pep talk instead, the IGP got stuck mid-speech.
The video of his embarrassing "transmission" encore went viral and some of his aides, after enjoying the man's misery privately, decided to issue a muddled public statement several days later that the video was "doctored."
They said mischief makers had tampered with the tape to portray the police chief as a moron incapable of addressing his men at a forum that was essentially an in-house event.
Idris may not have the eloquence of a fowl with a broken beak, they said, but he has come too far in his career not to be able to pronounce "transmission" after half a dozen attempts or to stumble and falter through a speech of less than 1800 words. Some even recalled his outstanding tour of duty on foreign mission in Liberia and elsewhere and dismissed any suggestion of incompetence as unfair and unwarranted.
If the "transmission meltdown" was a painfully hilarious chapter in the controversial tenure of Idris as IGP, his cameo appearance in Benue a few months before that nailed his image as a tardy, if not irredeemably incompetent, cop.
A presidential directive was issued for him to relocate to Benue and rally his men in response to the horrific killings by herdsmen, which left at least 100 dead.
Idris was in Benue, all right; but it was not until three months later when President Muhammadu Buhari paid a belated condolence visit that he knew that the man he sent on a rescue mission did not wait in Benue till sunset of the first day before he left the bleeding state to its own fate.
This story, widely reported in the press after Buhari himself admitted publicly that he did not know the IGP made a cameo appearance in Benue, sparked public outrage and widespread calls for the IGP's removal. But Buhari, being Buhari, just let the matter slide.
If that was the moment when public confidence in the IGP reached an all-time low, it was also the moment when Idris thought that the press, with Premium Times as arrowhead, had finally set him up against the big man in Aso Rock and will not rest until he falls.
The leaked letter to Osinbajo was the last straw and Premium Times the relentless nemesis he could find.
I don't know how Idris Times would have reported the story, but Ogundipe was doing his job for Premium Times the way Tony Momoh did his job for Daily Times in 1980 when the Senate under Joseph Wayas summoned Momoh to disclose the source of his information over a so-called injurious article he wrote about the Senate.
In that case, the court of appeal ruled that Momoh was within his rights not to disclose the source of his information, the reason being that if journalists had to disclose their source of information the inevitable chill would make it practically impossible for them to discharge their constitutional obligation of holding government to account.
As Femi Falana (SAN), has eloquently said, tolerance of dissenting views is inconvenient not for Idris or for this government alone, but for virtually all previous ones going back to Buhari's first incarnation as military head of state when Nduka Irabor and Tunde Thompson were jailed under Decree 4, which made independent thought and opinion a crime.
Why is Idris still holding Ogundipe, instigating a secret trial against him, freezing his account and treating him like a criminal? Why is the DSS keeping Jones Abiri (for over two dreadful years) for nothing other than for publishing inconvenient stories?
Instead of chasing shadows and inventing false enemies, the Police hierarchy owe Premium Times and indeed all media houses that published that leaked letter a debt of gratitude. And here, I'm not just talking about the grammatical errors starting from the "team of cracked operatives" in the first paragraph to the "crystal clear" conclusion which still needed "further interrogation" and over a dozen other howlers that make the transmission meltdown look like child's play.
I'm deeply concerned that the entire content of the letter taken in its smattering, stuttering whole, gives a disturbing impression of the quality of intelligence, investigation and reporting of such a high-profile incident. If this is what we get at the top, what is happening in the rank and file?
Even though it's supposed to be an interim report, the author was in such a terrible haste to work back from the answer to the problem, he could barely restrain himself from disguising the sham with low, crooked courtesies. The quality could not have been improved, even if the letter had been written in Nupe, his native language.
The pre-emptive publication of the letter confirms what we have suspected all along about the quality of the leadership of the Police hierarchy, prepares us for the worst outcome and challenges us to the work that must be done if we're serious about having a truly competent and professional Force.
Long after Idris is gone, we'll be grateful to Premium Times and Ogundipe for this wake-up call. And to borrow the memorable words of the IGP, I'm not "weeping up" sentiments.
Ishiekwene is the Managing Director/Editor-In-Chief of The Interview and member of the board of the Global Editors Network