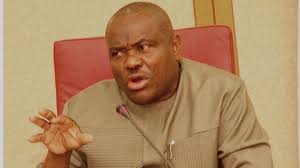 Rivers State Governor, Nyesom Ezenwo Wike has alleged that the 6 Division of the Nigerian Army has concluded plans to disrupt the March 9, 2019 Governorship and State Assembly elections in the state.
Governor Wike said there are plans to stir violence in some areas within Rivers.
He said "The 6 Division has mapped out local government areas where they will initiate violence to ensure that elections are not conducted as they did during the Presidential and National Assembly elections".
Addressing journalists in Port Harcourt, Governor Wike said: "They are plotting to cause a crisis, so that the Governorship and State Assembly will be cancelled.
"That is what the 6 Division is planning".
He said despite the militarisation of the elections, there are areas that some political parties cannot win because they are the strongholds of the PDP.
"There are areas that are no go areas. You don't kill people simply because you want to win. Look at how they shed innocent blood because they want to get 25percent or they want to satisfy the ego of one or two individuals ", he said.
Governor Wike said that the PDP in Rivers State is prepared for the elections. He said the party campaigned and interfaced with Rivers people.
"We have been prepared for these elections. There is no party that campaigned the way we did. Nobody is more prepared for the elections ", he said.
He added: "You cannot change the will of the people. It is difficult ".
Governor Wike believes that he has revived Rivers State through massive infrastructural projects, empowerment and economic development programmes.