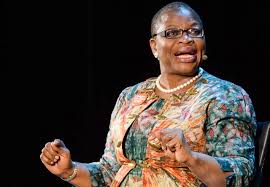 The presidential candidate of the Allied Congress Party of Nigeria (ACPN), Dr. Oby Ezekwesili, on Thursday, took her campaign to the streets of Onitsha, Anambra State, where she interacted with residents.
During the campaign event tagged 'Walk of Women,' videos of which were posted to her official Twitter account, Ezekwesili could be seen distributing flyers and booklets containing her policy action to people.
The former minister said she was the candidate to beat in the 2019 elections, adding that she was the candidate with the requisite attributes that had developed other countries.
The ACPN candidate assured Nigerians that her administration would turn around the economic situation of the country.
She said, "I am in Onitsha because I have come to meet with the people. You know that I always say my campaign is a disruptive campaign. It is not the kind of traditional campaign that people are used to seeing because it is a campaign that is about the people, so I go to the people.
"I am here in Onitsha because I am doing what we call the Walk of Women. You could see the ladies who were working with me and the idea is that we meet people one-on-one. We hear from them and we speak to them; we tell them that a vote for Oby is a vote for good governance. I come with character, competence and capacity.
"The logo of our party, the Allied Congress Party of Nigeria, is a squirrel, a very wise animal that knows how to be prudent, you know that we will be the government that will make education the new oil; ; we'll be the government that will make human capital the new economy for our country."
Ezekwesili stated that the goal of her administration was for Nigeria to become a prosperous country that would have defeated poverty.
She said, "We have a programme to lift 80 million Nigerians out of poverty and to build a society that is prosperous on the back of the private sector. The private sector will be the engine of growth in reality. Everything about policies, institutions building, critical investments in infrastructure and human capital that we're going to do during my time as president will make Nigerians the centre of development.
"There is no better way to let the people know that than to come face-to-face with them and to let them know that a vote for Oby is a vote for good governance."