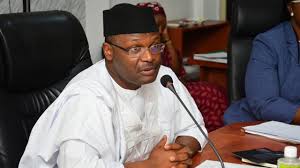 Sixty-one of the 91 political parties in the country have rejected the voting procedures prepared by the Independent National Electoral Commission (INEC), alleging that it contains clauses that will aid rigging during the elections.
The Independent National Electoral Commission (INEC) on Thursday announced the voting procedure in an article entitled 'How To Vote' published on its website.
The parties in a petition, threatened to pass vote of no confidence on INEC chairman if he goes ahead to release the contentious guideline on Monday without further consultation with Political Parties Chairmen.
The signed resolution and petition to the INEC chairman and his Federal commissioners by the 61 Political Parties, were submitted to INEC leadership at the Headquarters after an emergency meeting of the party leaders.
A statement from the spokesperson of the Interparty Advisory Council (IPAC), Ikenga Imo Ugochinyere, said how INEC reacts will determine the fate of the 2019 election which seems to be heading to major crisis.
The parties demanded the retention of 2011 and 2015 separate accreditation time and separate voting time to forestall rigging with the presence of voters at the polling unit instead of INEC 2019 simultaneous accreditation and voting.
Other demands made by the political parties include: announcement of accreditation figures by 12noon on election day and its recording in a signed form and given to party agents before voting starts to forestall doctoring of election figures during collation; stoppage of PVC collection 10 days to election and disclosure of the total number of PVC collected on polling unit basis to political parties; reject the clauses in the guideline which allows unduly accredited voters to vote especially the clause that allows voters with PVC whose name is not in the register of voters to vote as well as transparency in collation and transmission of results with accredited representatives of Election observers and political parties monitoring among others.