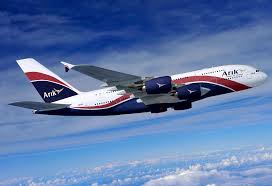 The Asset Management Corporation of Nigeria (AMCON) has denied reports that it was negotiating with Ethiopian Airlines to manage Arik Airline.
The corporation debunked the report in a statement signed by Mr. Jude Nwauzor, Head of Corporate Communications, in Lagos.
Nwauzor said AMCON was not aware of any current discussion or negotiation with the management of Ethiopian Airlines regarding Arik Air Ltd.
"It is on record that the Receivership Team has within the period stabilised the operations of the airline, marked by stability of schedules; improved On-Time-Performance (OTP) and revamped customer service among others.
"Today, the Airline has regained its dominance as the most reliable carrier in the country with growing passenger patronage and confidence.
"The general public and all stakeholders will be kept duly informed on issues relating to the airline's divestment," Nwauzor said.
It would be recalled that Arik was placed under receivership in February, following the airline's inability to repay debts in excess of N300 billion to AMCON and other creditors within and outside the country.
Nwauzor had earlier said Arik would be managed by Capt. Roy Ilegbodu, an aviation expert under the receivership of Mr Oluseye Opasanya (SAN).
He said the government decided to intervene because Arik Air is immersed in heavy debt burden that is threatening to ground its operations.
"For some time now, the airline, which carries about 55 per cent of the load in the country, has been going through difficult times that are attributable to its bad corporate governance and erratic operational challenges.
"Others are inability to pay staff salaries and heavy debt burden among other issues, which led to the call for authorities in the country to intervene before the airline goes under like many before it," he said.
Nwauzor said the move underscores government's decision to instill sanity in the nation's aviation sector.
According to him, the development will afford the airline to go back to regular and undisrupted operations, avoid job losses, protect investors and stakeholder funds as well as ensure safety and stability in the already challenged aviation sector.