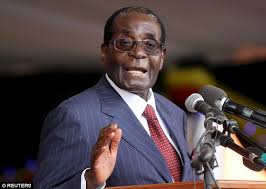 Robert Mugabe resigned as Zimbabwe's president on Tuesday, shortly after parliament began an impeachment process to end his nearly four decades of rule.
The 93-year old clung on for a week after an army takeover and expulsion from his own ruling ZANU-PF party, which also told him to leave power.
In a statement to parliament, Mugabe said the decision to leave was voluntary and that he resigned to facilitate a smooth transition of power.
The leader clung to power after he as removed last week by the military and forced under house arrest. His own party, Zanu-PF, expelled him from his leadership post.
Wild celebrations broke out at a joint sitting of parliament when Speaker Jacob Mudenda announced Mugabe's resignation and suspended the impeachment procedure.
Mugabe Resigns
The origin of Mugabe's sudden downfall lies in rivalry between members of Zimbabwe's ruling elite over who will succeed him, rather than popular protests against his rule.
The army seized power after Mugabe sacked ZANU-PF's favorite to succeed him, Emmerson Mnangagwa, to smooth a path to the presidency for his wife Grace, 52, known to her critics as "Gucci Grace" for her reputed fondness for luxury shopping.
Mugabe's exit marks a historic moment that will echo across Africa, where he was among the last surviving heroes of the anti-colonial struggle to remain in power, a leader who went from being lionized to being criticized as autocratic and brutal.
Mnangagwa, a former security chief known as The Crocodile, is expected to take over as president.