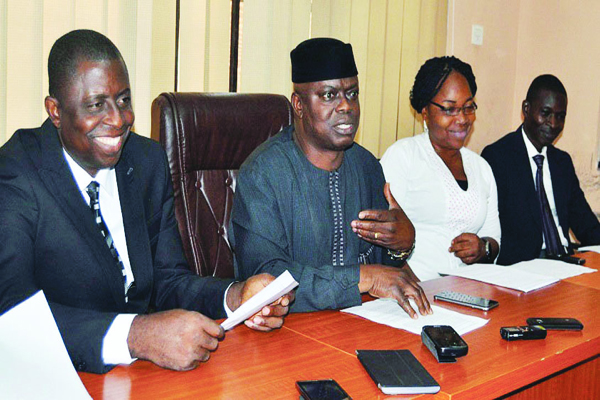 The Central Bank of Nigeria (CBN) has granted DavoDani Microfinance Bank Limited state licence.
Announcing the new licence to the media in Lagos, at the weekend, DavoDani Microfinance Bank's Chairman, Prince Austin Enajemo-Isire, said the lender has worked hard to secure the apex bank's approval.
He said the bank has satisfied all the necessary conditions for the licence, and that by the new feat, the lender can now commence branch expansion across Lagos State and its 57 Local Government Councils and Local Council Development Areas.
This, he said, would help achieve the vision and mission of the bank as well as the national policy objective on Micro, Small and Medium Entrepreneurs (MSME).
Enajemo-Isire explained that the Nigerian Microfinance Bank Policy and Regulatory framework was launched in 2005 with specific objectives of making financial services available to a large segment of the potentially productive Nigerians  which would otherwise have little or no access to financial services among others.  "The active poor and the vulnerable in the society, through this policy have access to micro credits and promote deposit and savings culture.  This is the foundation upon which our vision and mission is crafted: "to become an exceptional leader in the provision of micro finance and other responsive financial services on a sustainable basis to assist our clients achieve financial freedom," he said.
The bank, according to him, focuses on traditional and specialised savings, current accounts and investment products as well as risk assets, designed to empower MSMEs. Its core values and qualities centre on products innovation and excellent customer service.
The Managing, DavoDani Microfinance Bank Limited, Ndoma Ndoma Odey, said the objective of the lender is to empower grassroots population, giving them the opportunity to embrace financial services.
He said the bank will continue to  create quality risk assets that are beneficial to its stakeholders. He said the bank will continue to protect the interest of customers, including expanding credit to the individuals and groups.
The bank, he said, is already moving into remote parts of Lagos, encouraging low income earners to embrace financial services and give them low cost credit at about four per cent interest rate.
He said the bank customers have the opportunity to open and operate business account or current accounts, savings accounts, group savings accounts, term deposit accounts as well as call and fixed deposit accounts. There are also target savings account for ceremonies and special projects; graduation/freedom support account and esusu account, among others.