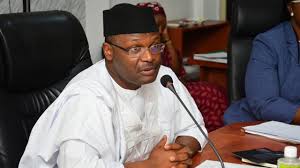 A Federal High Court sitting in Abuja has ordered the arrest of the Chairman of the Independent National Electoral Commission (INEC), Mahmood Yakubu, for failing to appear in court.
Justice Stephen Pam issued the warrant of arrest after Mahmood's absent in court for the third time.
Justice Pam had on July 5 ordered Yakubu to appear before him to show cause why he should not be sent to prison for contempt of court.
The judge made the order for Mahmood to appear before it while ruling on a preliminary objection by INEC and its Chairman in a contempt proceeding filed by Ejike Oguebego and Chuks Okoye, Chairman and Legal Adviser of the Peoples Democratic Party (PDP) in Anambra State, respectively.
Five days later, on July 10 when the court sat again, the INEC boss did not appear before the court.
Irked by his latest absence, the trial judge asked the police to effect the arrest immediately.