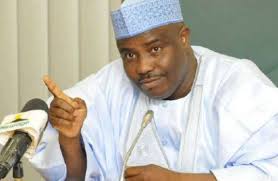 Sokoto state Governor Aminu Waziri Tambuwal has formally announced his defection from the All Progressives Congress (APC) to the Peoples Democratic Party (PDP).
He made the announcement on Wednesday while addressing a gathering at Government House, Sokoto amid hundreds of supporters who stormed the Government House to declare their support for him.
The announcement comes after weeks of speculation that Governor Tambuwal was planning to leave the ruling party and one day after he called on Nigerians to reject what he described as "prison-yard democracy".
Tambuwal, a former Speaker of the House of Representatives, is the third APC governor to exit the party after his Benue and Kwara state counterparts, Samuel Ortom and Abdulfatah Ahmed joined the PDP.