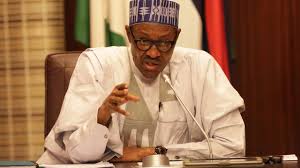 President Muhammadu Buhari on Thursday begged Nigerian youths to shelve their presidential ambitions till after 2019.
Buhari, who has declared his interest in seeking re-election during the 2019 elections, made the plea shortly after signing Not-Too-Young-to-Run Bill into law at the Presidential Villa, Abuja.
He described the bill as a landmark law, noting that the bill showed that the youth can achieve anything they conceive if they work hard at it.
The new law lowers the constitutional age limits for aspirants to presidential and legislative positions in the country, as clamoured for by majority of young Nigerians.
It reduces the age qualification for the office of the President from 40 years to 30 years; House of Representatives from 30 to 25; and State House of Assembly from 30 to 25.
The signing took place at the Council Chamber of the Aso Rock Villa, in the presence of the NTYTR group of under-35 young Nigerians drawn from across the country, led by Mr. Samson Itodo.
In his remarks after signing the law, Buhari canvassed for additional amendment to reduce the age limits for aspiring governors and senators, which was proposed but not reflected in the final bill he had just signed into law.
He said the signing of the bill was not the end of the journey but the beginning of more work to be done to get younger persons into government.