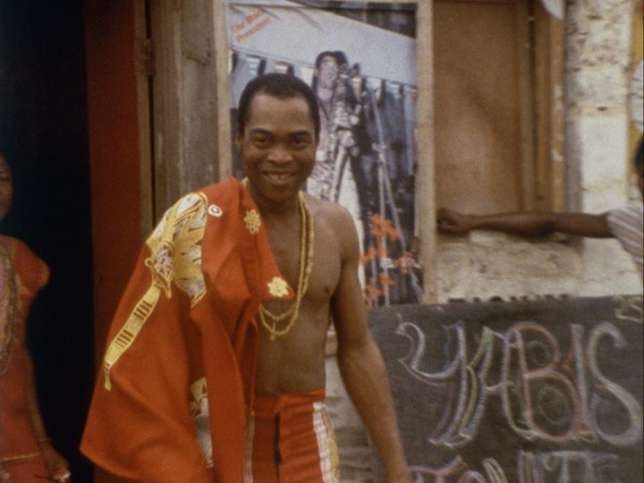 On August 2, 1997, the enigma who painted himself as larger than life and who death could not touch succumbed to complications resulting from HIV/AIDS as widely reported.
Decades after Fela Anikulapo-Kuti joined the ancestors, his influence and lifestyle are felt more than ever before. Nigerian contemporary music is on the global map now and he has been traced to the boom.
Fela was un-repentantly outspoken against the Nigerian corrupt government play
Fela with his music was un-repentantly outspoken against the Nigerian corrupt government.
Fela was infamously known as a connoisseur of the herb popularly known as marijuana. You don't have to go to the New Afrika Shrine to see young people indulging in weed. The weed culture is strong among young Nigerians than ever before as pop culture tilts toward a rebellious and counter-cultural lifestyle never seen before.
Disenchanted by Nigerian politics and mainstream culture, millions of youths have carved out a lifestyle that more or less reflects Fela's attitude towards life.
To say Fela was an icon is an understatement. He is a cultural colossus, a demi-god who still baffles, inspires and amazes millions of people till today.
He is respected by JAY-Z and Will Smith. Wizkid has a tattoo of him on his arm and calls himself Young Fela. Latino bands cover his classics. The stage play about his life held Broadway spellbound.
Fela was born on October 15, 1938, in Abeokuta, Ogun state to Reverend Israel Oludotun Ransome-Kuti and Funmilayo Ransome-Kuti.
Fela's birth names were Olufela Olusegun Oludotun Ransome-Kuti. Fela wasn't born into an ordinary family. He came from a fine line of Egba stock.
His father Reverend Israel Oludotun Ransome-Kuti was a respected man of God and school principal. Fela's grandfather Josiah Ransome-Kuti was the first Nigerian man to compose an album. It was a collection of church hymns sang in St Peter Cathedral Church Abeokuta, Ogun state.
Fela might have gotten his music taste from his grandfather but he got his rebellious and activist attributes from his mother.
A feminist who participated actively in the anti-colonial movement, she is most known for making a king abdicate his throne. She would play a great influence in Fela's music career.
By all accounts, Fela was like most kids. He was full of life and a truant. His parents were never afraid to discipline him. They were strict disciplinarians who believed in principles and morals.
Fela's complex life can be broken into three main parts like any story; Fela the musician, Fela the activist and Fela the spiritualist.
Fela's interest in music started early on. At Abeokuta Grammar School the music bug had gotten him fully. In his first major act of rebellion, Fela went to study music at the Trinity College of Music in London in 1958 instead of studying medicine- then a noble profession in colonial Nigeria.
He quickly formed a band known as the Koola Lobitos with his friend and partner in crime J.K Braimah. Fela's early style of music was a blend of jazz and highlife. After getting married in 1960 to Remilekun Taylor he moved back to Nigeria in 1963 and re-formed his band.
Fela's style of music wasn't a hit and he struggled to get gigs. He even played with Victor Olaiya and his All Stars. Things were not rosy for him.
Circa 1966 when his sound failed to attract a large audience his mother gave him a solid A&R advice that would revolutionize the world. "Start playing music your people understand, not jazz," Funmilayo Ransome-Kuti told her son. He started tinkering with his sound from then.
After being floored by the showmanship of Ghanaian musician Geraldo Pino in 1966 and 1967, Fela came up with the name Afrobeat in 1968 to differentiate himself from the James Brown style of music that was trendy at the time.
Geraldo Pino would steal the Lagos scene in 1966 and 1967 play
Fela still didn't strike gold. He decided to leave Nigerian during the civil war to the United States of America.
In August 1969, Fela would meet another woman who would also change his life forever. Her name is Sandra Izsadore. He met her in Los Angeles.