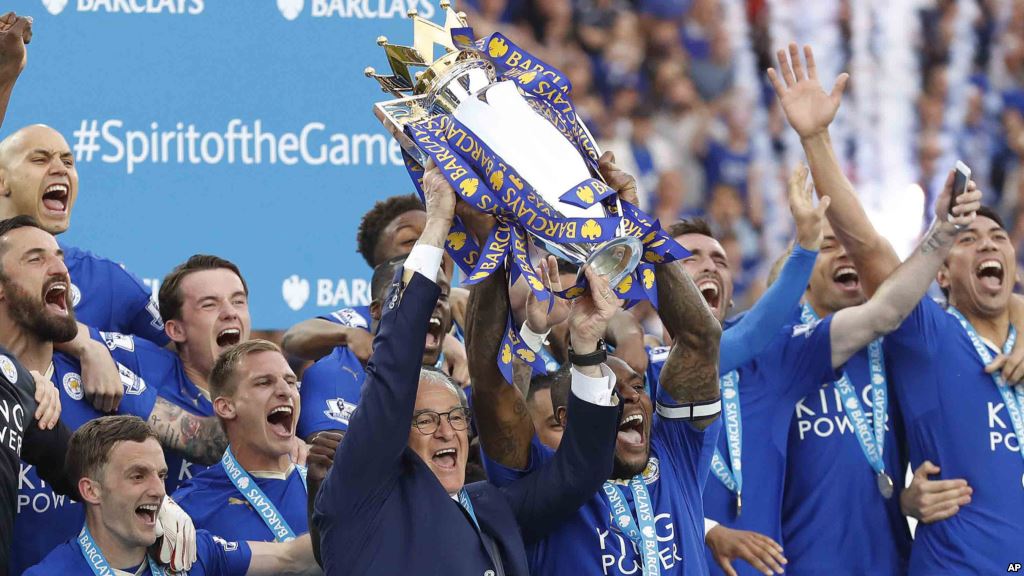 Leicester City have won the Premier League title in one of the greatest sporting stories of all time, BBC reports.
Tottenham's 2-2 draw at Chelsea on Monday confirmed a stunning achievement for Claudio Ranieri's side.
Leicester started the campaign as 5,000-1 outsiders for the title after almost being relegated last season.
But they have lost just three league games in what has been described as a "fairytale" and the "most unlikely triumph in the history of team sport".
Closest challengers Spurs, Arsenal, Manchester City, Manchester United and last year's champions Chelsea, have all failed to match the Foxes' consistency across the season.
"In terms of domestic football, Leicester City winning the Premier League is the greatest achievement ever and I think it will never be surpassed," former Leicester midfielder Robbie Savage told BBC Sport.
"It is incredible. This is a turning point in Premier League history."
After Leicester drew 1-1 at Manchester United on Sunday, Tottenham needed to win all three of their remaining league games to catch the Foxes.
But their title hopes were ended when they squandered a 2-0 lead to only draw at London rivals Chelsea.
Match of the Day pundit and former Newcastle United, Blackburn Rovers and England striker Alan Shearer said the Foxes' achievement was "the biggest thing ever in football".
Shearer, who won the Premier League in 1995 with underdogs Blackburn said, "For a team like Leicester to come and take the giants on with their wealth and experience – not only take them on but to beat them – I think it's the biggest thing to happen in football."
Gianni Infantino, president of football's world governing body Fifa, said Leicester's "beautiful story" was a "fairytale".
Former Leicester, Everton and England striker Gary Lineker called his hometown team's achievement the "most unlikely triumph in the history of team sport".
The Match of the Day presenter had suggested the Leicester players were on the "edge of sporting immortality" last month.
Copyright PUNCH.
All rights reserved. This material, and other digital content on this website, may not be reproduced, published, broadcast, rewritten or redistributed in whole or in part without prior express written permission from PUNCH.
Contact: editor@punchng.com
The post Leicester City win English Premier League appeared first on Punch Newspapers.