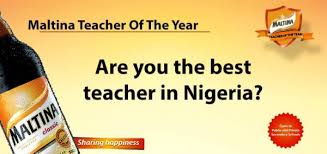 As the July 7 2017 deadline for entries for 2017 Maltina Teacher of the Year (MTOY) draws near more teachers across the country have been visiting the MTOY website to submit their entries to beat the deadline.
Organisers of the MTOY and various stakeholders in the nation's education sector had, at the flag-off of the event last month, encouraged teachers in both public and private secondary schools to participate in the innovative award aimed at rewarding teachers and the teaching profession in the country.
Corporate Affairs Adviser of Nigerian Breweries Plc, Mr. Kufre Ekanem, disclosed that entries have been received from teachers in many states and the Federal Capital Territory.
He advised interested teachers to download application forms from the Maltina website before the closing date.
Ekanem restated that the MTOY initiative is to reward commitment and diligence to duty by exceptional teachers across the country. It is executed on the platform of Nigerian Breweries Felix Ohiwerei Education Trust.
As it was last year, each State Champion will get N500,000 and the Top 10 teachers will be recognised before the grand winners are announced. The first and second runners-up will receive trophies and an additional N1 million and N750, 000 respectively.
The Maltina Teacher of the Year 2017, Ekanem added, will have an additional N1 million instantly plus N1 million every year for the next five years, a development training opportunity abroad and a block of classrooms built at the school where the winner teaches.
"It is our hope that, through the Maltina Teacher of the Year initiative, we can inspire this nation to accord our teachers their deserved credit and bring back respect to the teaching profession in Nigeria. As partners for development, we solicit the support of all education stakeholders and our friends in the media towards the success of this initiative," Ekanem said.