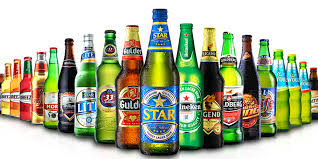 Nigerian Breweries Plc said its target is to source 60 per cent of its raw materials locally by 2020. The company which currently sources 50 per cent of its raw materials locally said it has become even more imperative to source more of its raw materials locally to mitigate against the ugly effect of foreign exchange challenges as experienced in 2016.
The brewing giant said it would ramp up efforts to source local raw materials as well as look for further improvements in its sorghum value-chain adding that it would be consolidating its earnings and profitability through improved market penetration with its innovative products.
Managing Director, Nigerian Breweries Plc, Nicolaas Vervelde, who was addressing the press ahead of the company's 2016 Annual General Meeting, noting that the company would carefully look at its price adjustment mechanism to ensure a balance in the management of input costs and price consumers are willing to pay for its products.
He said the company is making progress with its partners – International Fertilizer Development Centre (IFDC), and Psaltry International, a local processing firm, on improving value extraction from cassava.
The MD added that the company was also making headway in the development of new hybrid sorghum varieties, noting that yields have increased over the period which is in line with the firm's growth projection.
"It is anticipated that economic activities will improve in 2017 considering the far reaching fiscal and monetary measures being planned and implemented by the Federal Government," he said. "It is therefore hoped that with the gradual rise in the price of oil and a steady increase in the volume of oil output, the Naira will be strengthened and forex will be more available for businesses.
"The brewed product market would remain competitive and consumers are expected to continue the down-trading as they seek for more affordable brands. Cost leadership and market leadership supported by innovation remain our key strategic pillars."
He said that the company saw a 25 per cent increase in the cost of goods sold in Q1 due to higher input costs. However, results from operating activities increased by 7%, while profit after tax grew 9%, driven by lower net finance charges and a continued focus on its cost efficiencies.
Vervelde said that revenue in the period rose 18 per cent due to the impact of price increases it implemented in 2016, to absorb the effect of higher inflation and depreciation of the naira. He further added that Nigerian Breweries has developed a set of competing portfolio to address the needs of a diverse consumer base, even as he decried the low per capita consumption of beer in the country.
He said that Nigeria has a large population of 170 million people but only consumes 11-litres per person a year, while other countries with large population have far higher consumption per capita.
He added that the performance of the brewery industry in the last year has been a reflection of the economy, stressing that the industry has been undergoing slow growth due to the recession and the low purchasing power of the Nigerian consumer.