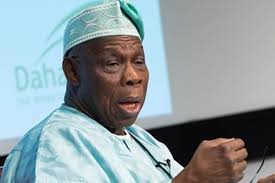 Former President Olusegun Obsanjo has accused the government of President Muhammadu Buhari of intimidating judges to do the bidding of the ruling All Progressives Congress (APC) in 2019.
Obasanjo spoke in Abuja during at a colloquium to mark the 70th birthday of Josephine Anenih, former Minister for women affairs and social development adding that anti-graft agencies were also being used to clamp down on the opposition.
"Some institutions created for normal administration and dispensation of Justice, like the EFCC, the Independent Corrupt Practices and other related offences Commission (ICPC), the Federal Inland Revenue Service (FIRS) and the ministry of justice are being directed to witch-hunt and pursue political opponents," he said.
"The use of intimidation, violence and physical attacks have started in some states. It is understood that judges are already being intimidated so as to prepare them to do the ruling party's bidding in election petitions. All there are visible in today's practice of democracy in Nigeria.
"For me, that after almost 20 years of the beginning of the present dispensation, it has not been derailed, is enough a development in progress, even though there are many unpalatable practises and dangerous signs that have shown their ugly heads, which is the strongest indication that our democracy is alive but, it cannot be said to be hale and hearty. Practitioners of democracy must be democrats, if you have a lot to be desired.
"In this present administration, there are 15 women members in the house of representatives. It is not only unacceptable but makes mockery of gender balance. There must be amendment of our constitution, not to allow any gender to have less than 40 percent in any parliament.
"The health of our democracy can be judged by the participation of women. Democracy is a system of government that allows team spirit and debate before decisions are reached; it is a government for all citizens to benefit without fear or favour."