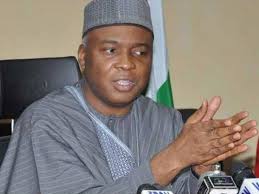 Senate President Bukola Saraki has boasted that the opposition Peoples Democratic Party (PDP) will win the 2019 presidential election.
Saraki said this in Ilorin at a meeting with PDP members who came from the 16 local government areas of the state.
He also expressed his confidence that his new party would emerge victorious in all the local government areas of Kwara state.
Saraki said the victory of PDP at both federal and state levels would be beneficial to all the members in the state.
The senate president said that the future of PDP was now brighter than it used to be.
"If we emerge victorious at the federal level, all of us will be the beneficiaries. In the state, with your support we will win the state for PDP," he said.
"All of you here are the key players in Kwara politics. With unity of purpose, no party can contest with you.
"We are here to unite all of us under the party we belong to today. I am assuring all members that there will be equity, internal democracy and justice.
"It is not going to be winners take all. As far as I am concerned, everybody here today belong to our political structure.
"There is nothing like old or new Peoples Democratic Party (PDP). We have all become one PDP. I want all of us to be united for the progress and development of Kwara state.
"As par the politics of the state, nobody can wrest the power from us if we are united. By the grace of God we will emerge victorious both at the federal and state levels.
"We will ensure that we work as one party because we have always worked together before. We will see that all the wards and local governments' popular candidates emerge based on their popularity and acceptability."
He assured PDP members that there would be no anointed candidates in all the elective positions.
"I don't have any anointed candidate at all levels. I don't have candidates for the state assembly, national assembly. It is the person you want in your constituency that I will okay," he said.
"Don't allow anybody to deceive you that I have endorsed any candidate."
The senate president implored party leaders and elders not to drop his name to impose unpopular candidates.
"All of us will collectively choose who becomes the next governor. We will ensure that there is no faction, but one PDP.
"We will ensure that meetings in the local government areas take place in one venue. And we will all work together for the interest of the party."
Saraki appealed to all party members to start work for the party to emerge victorious next year.
"I am sure many more will come back and join us because those that left left under the wrong assumption that it will be different from what it used to be," he said.
"They were misled that those coming are out to move them away. Nobody is moving you away because this place belongs to you too. Let us go back and start work closely together and by the grace of God we will all be victorious."