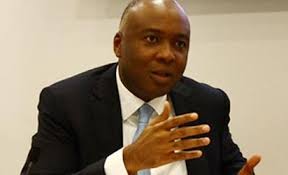 The Senate Wednesday has viewed with much concern and apprehension, the security issues currently unfolding across Nigeria. Lawmakers alleged collapse of security structures in the country.
"Clearly, all the messages that are coming is that there is definitely a collapse of what is either called security infrastructure or national security, said Senate president Bukola Saraki.
"The impunity being that people all over now illegally carry arms around the whole place, he said.
"It is time now. We cannot continue as a society where people will just be dying on a daily basis and we cannot come up with a resolution."
Saraki, in a summary of the contributions by senators, said the consensus was that the country's security system had failed.
According to Saraki, the problem over the years is that the government has refused to face the problem head-on. "We don't want to deal with it because it has a lot of issues," he stated.
"The fact that in the past, many committees had been set up to look at the reformation of the police but as of today, no action has been taken."
"Issues were raised on whether there is the need for what is called state police or community police but the big point is that it is for us to redesign the structure and based on that decide on what the solution is, not the solution before the design.
"Of course, the issue of funding of our security agencies is there too. And we have shown here many times how committed we are and our national approach to major government issues. We must be able to define exactly what we want to do in taking this problem head-on."
Senators said Nigeria is now one of the most dangerous countries in the world.
The senators agreed "to review the current security infrastructure of the country, and in consultation with the security agencies make necessary recommendations on the way forward in the security arrangement.