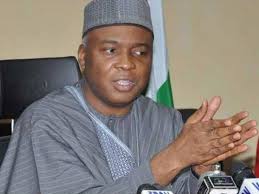 The President of the Senate Dr Bukola Saraki has said that the 8th Senate was ready to reconvene to consider the N242 INEC budget currently pending before it.
Saraki disclosed this during a World Press Conference on Wednesday on the aftermath of the siege on the \national Assembly by operatives of the DSS.
Reacting to questions from newsmen after the official briefing, Saraki said that the National Assembly was committed to the smooth running of the government and would not do anything that will negatively affect the operations of government.
He argued that the Senate in recognition of the importance of the INEC budget, had scheduled a meeting with the leadership of the Commission on Tuesday but the planned meeting was botched by the siege on the National Assembly.
Saraki however knocked the executive for failing to bring the budget since January knowing fully that there would be an election in 2019.
"We want to reassure Nigerians that, on our part, we remain committed to working for a country governed by the rule of law. Our desire is to have a society where there will be equity and justice, not oppression.
"We stand committed to doing our utmost as lawmakers to ensure that the responsibility and functionality of governance are met. Although we are on annual break, we are daily reviewing the situation and are alive to the responsibility to take action as necessary.
"Unfortunately, yesterday's shutdown prevented us from meeting with INEC, as scheduled, to address their request. We will continue to do all to ensure a smooth and successful 2019 election.
"In the spirit of that we also appeal to Mr. President to sign the new 2018 Electoral Act Amendment Bill in line with his recommendations, which has been sent for his assent.
As at the time of this report, the National Assembly was already meeting with the INEC leadership over the Budget.
Speaking during the question and answer session, Saraki said that the leadership of the Senate would be meeting with the INEC leadership over the budget.
He assured that if the outcome of the meeting would require the Senate to reconvene, he would not hesitate to reconvene the senate to pass the budget.